More than 1,000 nurses and midwives from three unions held a protest at the offices of the Nursing and Midwifery Board in Blackrock in Dublin.
The nurses object to the 50% increase in the €100 fee they must pay the board to be registered to work in Ireland.
The Irish Nurses and Midwives Organisation, SIPTU and the Psychiatric Nurses' Association were involved in the protest.
They said registration fees for other health professionals are remaining at €100 a year until at least 2017.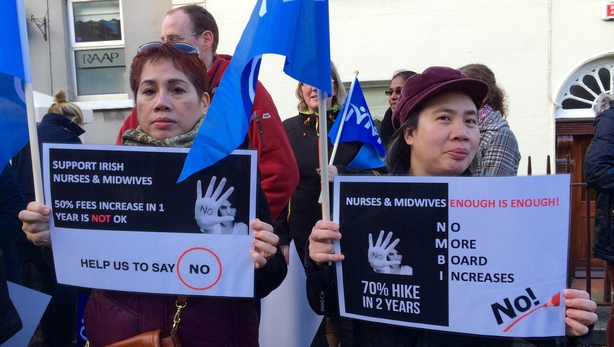 They also said the increased fee sought would be a major burden, especially on younger, lower-paid nurses.
The board, which regulates the profession, said the €150 fee due from 1 January is needed for it to meet its obligations under recent legislation, including holding fitness-to-practise inquiries in public.
It said nurses and midwives without a certificate of registration will not be employed by the Health Service Executive.
A mass boycott of the fee could have serious implications for services in the New Year.
At the end of the protest, representatives from the three unions handed in a letter of protest to the Nursing Board.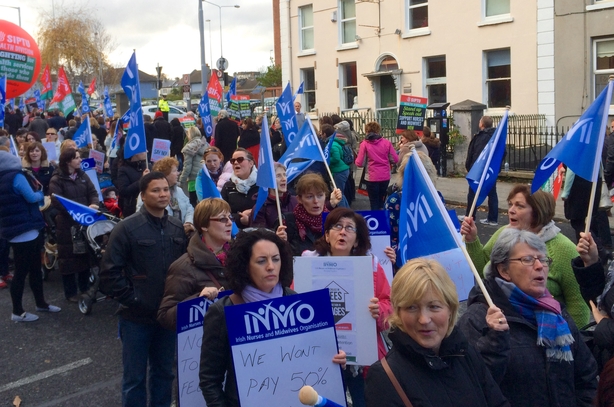 INMO President Clare Mahon said her members are frustrated at the increase, saying "it's a step too far".
She told RTÉ's Six-One News that INMO members are working in conditions that are "not always conducive to quality and safe care"
She said nurses do not get support or assistance from the Nursing Board.
Ms Mahon asked the Nursing Board for transparency in where INMO fees are being spent.
Earlier, nurse John Lavelle from Dublin said the fee increase was another kick in the teeth for hard-pressed nurses after recent pay cuts.
The protesters from the three main Nursing Unions at the Nursing Board in Blackrock pic.twitter.com/RG4HvpSaLx

— Micheal Mac Suibhne (@MicMacSuibh) November 18, 2014