Taoiseach Enda Kenny today faced further protests over the Government's handling of the introduction of water charges.
Mr Kenny was met by around 50 protesters outside the Mansion House where he was launching the Royal Irish Academy's "Art and Architecture of Ireland". 
He would not take questions from reporters this afternoon over yesterday's anti-water charge protests in which Tánaiste Joan Burton was targeted, saying only: "It's not about water, is it?" 
There were minor skirmishes as the Taoiseach's car left the building.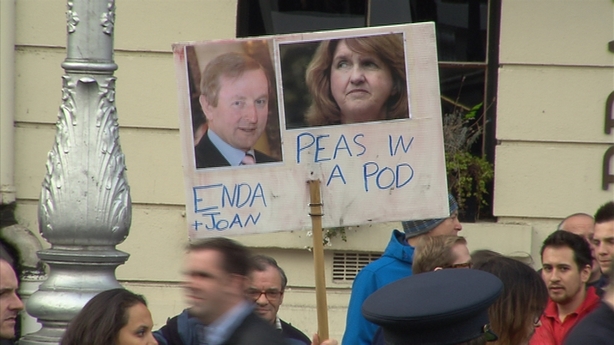 Several politicians have criticised the nature of the anti-water charge protest in Dublin yesterday, during which the Tánaiste was trapped in her car for over two hours and a water balloon was seemingly thrown at her.
Ms Burton criticised Anti Austerity Alliance TD Paul Murphy for his part in the protest and described the demonstration as undemocratic.
Several hundred protesters surrounded the Labour leader's car after she attended a higher education graduation ceremony for students in Jobstown.
She was trapped in her car for more than two hours.
Speaking on RTÉ's Marian Finucane Show, Ms Burton said she hoped such a standard would not become the norm.
The Tánaiste also praised gardaí saying they were "magnificent" and had faced taunting and sexist remarks against female gardaí.
She described as "horrible" the mindset of some people taking part in the protest.
Ms Burton said all of this had happened close to church grounds where there were many children and young people attending family members' graduation ceremony.
She said she was worried that a child might be hurt as missiles were being thrown, adding that normally people organising protests take responsibility for how they are conducted.
Video footage has appeared online seemingly showing the Tánaiste being hit by a water balloon thrown during the protest in Jobstown yesterday.
"They were rocking the car, banging on the windows and doors and the roof.
"Paul Murphy is a TD - he was standing at the back with a loud hailer leading the chanting, but I can say if that's his idea of a peaceful protest, I would not like to see that norm being set for Ireland by him as they way people in Ireland protest."
Mr Murphy disputed the Tánaiste's version of events.
He told RTÉ's This Week that claims the Tánaiste's car was rocked by protesters in an attempt to overturn it are false and he said Ms Burton was attempting to "demonise peaceful protesters".
He said all protesters behaved in a peaceful manner but that there were others present who took an opportunity to throw eggs at the Tánaiste's car.
Mr Murphy said he does not condone that behaviour.
He said at no point did the protesters "lose control" of the demonstration.
He said after the protest ended the gardai "went in heavily" to remove protesters and he himself was "covered in bruises" from being removed from a sit-down protest. 
Speaking on RTÉ's The Week in Politics, Sinn Féin spokesperson on the environment, community and local government Brian Stanley said "people are entitled to protest peacefully. It is part of the democratic system. Obviously some of the protest went too far and you cannot condone that kind of behaviour."
Meanwhile. Minister for Health and Fine Gael Dublin West TD Leo Varadkar has called on his constituency colleagues Joe Higgins and Ruth Coppinger to publicly dissociate themselves from the intimidation witnessed yesterday.
Mr Vardadkar said: "The protest in Jobstown saw behaviour of the worst kind.
"There are reports of intimidation, aggression, sexist remarks and abuse of the Gardaí who were trying to keep the peace. Essentially, a happy graduation day was hijacked.
"The protest was apparently organised and orchestrated by Deputy Paul Murphy of the AAA. I want to know where his party colleagues Joe Higgins and Ruth Coppinger stand on this level of intimidation.
"I am calling on them to dissociate themselves from the violence on display at that protest.
Independent TD Maureen O'Sullivan said what happened yesterday was "very alarming" and it would be wrong if what happened takes from the substantive issue.
Paschal Donohoe, the Minister for Transport, Tourism and Sport, said: "What we saw happening yesterday was a step too far."
He said: "We have a long tradition of peaceful protest in our country.
"What we saw happening yesterday was completely different and it was an attempt to intimidate a democratically-elected representative."
He criticised Mr Murphy and some statements made recently by Sinn Féin calling on people not to pay their water charges.
Mr Stanley claimed that the water charges will have a real cost of €598 per household.
He said that the Government will be lucky to bring in €150-160m on the basis of the charges that have been reported in newspapers today.
Ms O'Sullivan said that Irish Water is a classic case of putting the cart before the horse.