Sinn Féin leader Gerry Adams has rejected claims that his party was involved in a cover-up of child sex abuse.
He was speaking during a Dáil debate on allegations of sexual abuse by members of the provisional republican movement.
Taoiseach Enda Kenny accused the IRA and Sinn Féin of covering up child sex abuse and moving those accused of offences from Northern Ireland to the Republic.
The debate was prompted by allegations by Máiría Cahill that she was raped and then forced to face the alleged assailant in a republican style court.
Ms Cahill said she regretted that Mr Adams did not take the opportunity in the Dáil to tell the truth.
She said she would also like Sinn Féin's deputy leader Mary Lou McDonald to confirm whether or not a party internal review has been carried out.
Ms Cahill watched proceedings from the public gallery in the Dáil.
Mr Adams said he believed Ms Cahill was abused but rejected claims his party was involved in a cover-up of abuse.
In a strongly worded address, Mr Kenny said Sinn Féin and the IRA were guilty of "unholy collusion" in covering up sex abuse.
The Taoiseach said Ms Cahill's testimony has been chilling and compelling, consistent and sincere.
He said it was the polar opposite of Sinn Féin's handling of it.
Mr Kenny said Ms Cahill as a victim felt horrified and traumatised.
He said that instead of manning up and doing what real men would have done, she was humiliated and degraded all over again with a Kangaroo court, inflicting on her an extravagant cruelty.
He told the Dáil that Ms Cahill came up against people "who had the delusion and the gall to refer to themselves as Óglaigh na hÉireann".
Mr Kenny told the Dáil that it is clear that in the case of Ms Cahill, Sinn Féin and the IRA put the institution first.
Mr Adams called again on former IRA volunteers who have any information about abusers being expelled from Northern Ireland to bring that information forward.
He said surely there is agreement in the Dáil on the urgent need for an all-island victim-centred process for those who were failed and let down in the past.
Allegations of an IRA cover-up have "morphed" into claims of a Sinn Féin cover-up, he said.
Mr Adams told the Dáil that if he or Sinn Féin were at fault, he would accept and acknowledge that.
However, he said he and other Republicans who spoke to Ms Cahill did so out of concern for her welfare.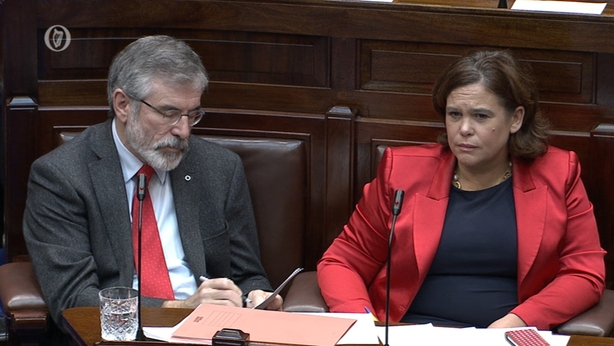 Mr Adams said Ms Cahill was advised to go to the RUC. She was an adult at that time and refused to go to the police, he said.
"That was her right."
He accused the BBC Spotlight programme of subverting the justice process and engaging in "trial by media".
He told the Taoiseach that child protection failed time and time again "under your watch".
Mr Adams said there is also a damning reflection on the previous government, which failed to use the wealth of the boom of the Celtic Tiger to invest in child protection services.
Mr Adams said he would welcome any measure that could bring truth and closure to victims of abuse.
Concluding his statement, he wished Ms Cahill well and said he hopes she gets justice.
Speaking on RTÉ's Six One this evening, Ms Cahill said she regrets that Mr Adams had an opportunity, in the Dáil, to tell the truth, but that he did not, describing it as "despicable".
She said she finds it "deeply ironic and hugely upsetting" that Mr Adams, who, she said, is now wishing her well and hoping that she achieves justice, is the leader of the party that denied her achieving justice.
She said that she believes there are a huge number of abuse victims - "well over the 28 mark" and that she would like confirmation from Sinn Féin's deputy leader Mary Lou McDonald that a Sinn Féin internal review took place into the matter.
Ms Cahill also said she will work with the authorities to try to ensure that proper child protective checks are in place in respect of the alleged abusers, who, she claims the IRA moved from Northern Ireland to the Republic and to England.
Ms McDonald said accusations that Sinn Féin is ambivalent to child safety is untrue and these "slurs" are political which makes them beneath contempt.
She said it is essential the State and its institutions have the confidence of victims and families so people might come forward and that confidence did not exist in Northern Ireland.
She said many victims of sexual violence and rape never reported to anyone, while others went to social services and the police and were exploited. Others went to the IRA, who she said, should never have been involved in these cases.
TD to hand over names of alleged abusers to gardaí
This afternoon, Fine Gael TD for Meath East Regina Doherty told the Dáil she has knowledge of eight male abusers who were facilitated by Sinn Féin in moving to the Republic.
Ms Doherty said she was too afraid to name them today but has made an appointment in her local garda station for Friday morning to hand over the information.
She said she was dizzy from the amount of changes in Mr Adams' story about an IRA investigation being carried out into the allegations made by Ms Cahill.
Ms Doherty asked Mr Adams about an investigation carried out which identified 100 victims of sexual and physical abuse.
She asked Mr Adams why a senior Sinn Féin press person was told to prepare a press strategy in case that information was leaked.
Ms Doherty then told Ms McDonald she was disgusted and disappointed beyond belief by her response to Ms Cahill and all the other victims.
She said naked political ambition caused her to fail the children of Ireland in the name of a cheap power grab.
Tánaiste Joan Burton said the debate is about providing justice today for people who have been abused in the past.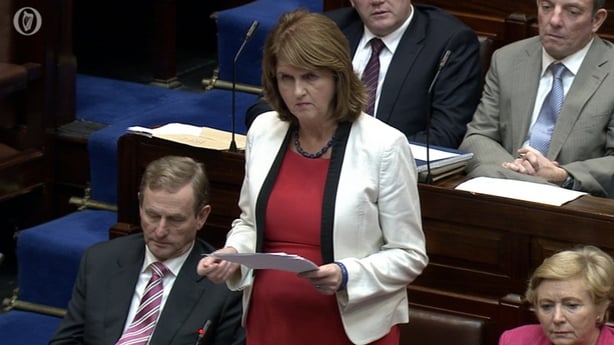 "And it is about the standards and behaviour that we expect of the leaders of Irish democracy as represented in this House."
She said Ms Cahill "painted a picture of justice denied".
She raised the issue of the extent of child abuse by members of the republican movement and the denials and live cover-up that is ongoing.
"And second, the attacks that have been unleashed by Sinn Féin members and supporters on the character of Máiría Cahill in what appears to be an attempt to warn-off other victims from coming forward." 
She said that responding to the Ryan Report less than five years ago, Ms McDonald said it exposed how "the most powerful men in the Catholic Church in the Dublin Diocese conspired to protect abusers of children."
Ms Burton said she further said that anyone found to be complicit in the cover up of child abuse "must be arrested and made to face the full rigours of the law".
"I agree fully with Deputy McDonald's sentiments. And I ask her to apply those same standards to Sinn Féin and the IRA." 
Fianna Fáil leader Micheál Martin said it is clear that victims coming forward are honest and brave.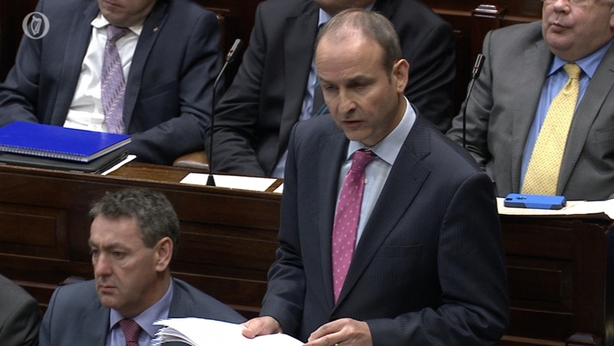 He said he is proud to stand with them against a cowardly movement.
He said within the communities that the Provisional IRA worked to dominate, the abuse of children was frequent and any action which was taken was designed to limit the publicity rather than to ensure justice. 
Mr Martin called for a "legally empowered, independent inquiry" and said nothing else was acceptable.
He said he understands there are as many as 28 victims now discussing how to have the truth of what happened to them acknowledged.
Many more remain scared of the power and reach of a movement which retains iron discipline, he added.
There are legitimate concerns about the handling of cases and this issue needs to be addressed, he said.