A South Korean court has handed down a 36-year jail sentence to the captain of the Sewol ferry that sank in April.
However, it acquitted Captain Lee Jun-Seok of murdering the 304 people who died in the disaster.
The three-judge bench ruled that prosecutors, who had demanded the death penalty for Lee, failed to prove the most serious charge of "homicide through wilful negligence".
But the court found Lee, 69, guilty of severe dereliction of duty, including abandoning the ferry while hundreds of passengers, most of them schoolchildren, remained trapped on board.
The ruling followed five months of dramatic, often painful testimony in the trial of Lee and 14 other crew members of the Sewol, which capsized off the southern coast on 16 April.
Three other senior crew members, who had also faced homicide charges, were sentenced to jail terms of up to 30 years.
"We find it hard to conclude that the defendants ... were aware that all of the victims would die because of their actions and they had an intention to kill them," the bench said.
"Therefore, the murder charges are not accepted."
The prosecution has said it will appeal the court's decision not to impose the death penalty on Lee.
The overloaded ferry had capsized while making a turn on a routine voyage to the holiday island of Jeju.
Video footage of the crew abandoning the vessel after instructing the passengers, mostly teenagers, to remain in their cabins caused outrage across South Korea and calls for harsh punishment.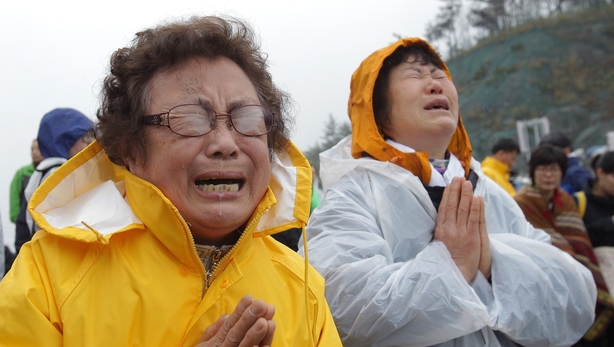 Anger and grief gripped the nation after its worst maritime disaster in decades.
President Park Geun-hye's government was heavily criticised for what was seen as a botched rescue operation.
Only 172 of the ferry's 476 passengers and crew were rescued. Of the 304 confirmed dead or still listed as missing, 250 were school children.
Just hours before the court ruling, Maritime Minister Lee Ju-Young announced the end of the search of the sunken vessel for nine people who remain unaccounted for.
"The situation within the ship has become too difficult to continue," Mr Lee said, citing the collapsing interior and worsening sea conditions with the onset of winter.
Two divers died in May during search efforts in an area known for rapid currents and poor underwater visibility.