Former RTÉ broadcaster, author and academic Brian Farrell has died at the age of 85.
He presented numerous political programmes on RTÉ, including election and budget specials.
Mr Farrell, who was born in 1929, was educated at UCD and then at Harvard.
He was subsequently appointed an associate professor in Government and Political Science in UCD.
Mr Farrell began broadcasting in 1957, initially on radio, and he became known for his interviews, particularly those with politicians.
He worked on numerous television programmes during his time with RTÉ, including Broadsheet, Newsbeat, 7 Days, The Political Programme, Frontline, Today Tonight and Prime Time.
His published works included Chairman or Chief (1971), The Founding of Dáil Éireann (1971), Seán Lemass (1983), and Child Poverty in Ireland (2000).
President Michael D Higgins has paid tribute to Mr Farrell.
Speaking from Malawi, the President said: "I have just learned with much sadness of the death of Brian Farrell and I extend my deepest sympathies to his wife Marie-Therese, his children Naomi, Bernard, Miriam, David, Rachel, Theo, Brian and his entire family.
"Brian Farrell was an outstanding broadcaster and political commentator and in so many ways he set the standard for others to follow, during the early days of RTE television.
"His deep knowledge of current affairs and the wider political landscape, combined with his incisive questioning, contributed to his immense success and his holding of such respect as a broadcaster."
RTÉ Director General Noel Curran said: "Brian Farrell was one of the most respected and talented current affairs presenters ever to appear on RTÉ. 
"Having started out on Radio Éireann, he was there from the very beginning of Telefís Éireann in 1962.
"On Broadsheet, Newsbeat, 7 Days, Today Tonight, and Prime Time, his incisive analysis was paired with a unique presentation style and a depth of knowledge about Irish politics that was extraordinary.
"He was also a fantastic colleague. Wise, witty, supportive but also not afraid to challenge, he was a hugely positive presence on the Current Affairs team. I consider it a privilege to have worked with him. Our thoughts are with his family."
Chancellor of the National University of Ireland Dr Maurice Manning described Mr Farrell as an outstanding broadcaster, a fine academic and an inspiring lecturer.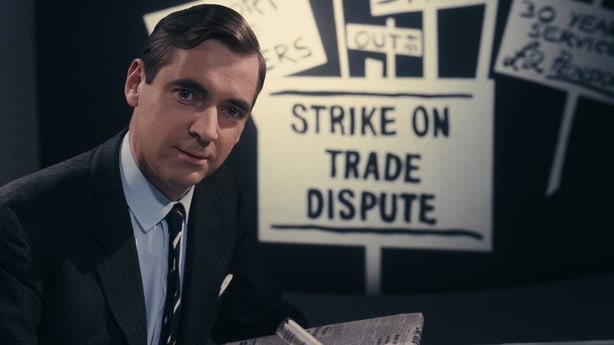 Taoiseach Enda Kenny has described Mr Farrell as one of the outstanding political commentators of his generation.
Mr Kenny said the broadcaster had left a lasting imprint on the nature of politics in Ireland.
He described Mr Farrell as an institution, who had an extraordinary way of dealing with politicians.
The Taoiseach said Mr Farrell was the authoritative voice of analysis on Irish current affairs, who oversaw interviews in a fair and balanced way.
He said he had always asked the hard questions and his approach always concentrated the minds of politicians.
Brian Farrell speaks to President Mary Robinson about her presidency in 1995
Brian Farrell interviews Charlie McCreevy and Michael Noonan about Budget 2000
Brian Farrell chairs a debate on the 1987 Budget
 
RIP Brian Farrell (1929-2014) A selection of Brian's contribution to broadcasting at RTÉ http://t.co/rMtQBvM8fd pic.twitter.com/AmjwUR31fC

— RTÉ Archives (@RTEArchives) November 10, 2014