There have been calls for a more inclusive service to be held in Ireland on Remembrance Sunday in future as senior politicians laid wreaths at ceremonies in Ireland and the UK.
Tom Burke, Chairman of the Royal Dublin Fusiliers Association, said the bullets in World War I did not differentiate between Protestant, Catholic, Muslim or Jew.
He suggested that the service held today at St Patrick's Cathedral in Dublin for Remembrance Sunday should be rotated between St Patrick's Cathedral and the Pro-Cathedral.
However, the Dean's Vicar of St Patrick's Cathedral the Reverend Canon Charles Mullen said their service was an ecumenical one and had been in existence for almost 100 years.
In a statement the Department of Arts, Heritage and the Gaeltacht said the centenary of the outbreak of World War I was officially commemorated with a memorial mass on Sunday 3 August in St Mary's Church, Pro-Cathedral, which was celebrated by Archbishop Diarmuid Martin.
As well as today's Remembrance service in St Patrick's Cathedral, further commemorative events will take place on Tuesday, 11 November to mark Armistice Day.
These will include a service at St Ann's Church, Dawson Street, wreath-laying ceremonies in Glasnevin Cemetery and the official opening of a new World War I exhibition at the Milestone Gallery in Glasnevin.
The statement said Minister Heather Humphreys said she is committed to promoting an inclusive, appropriate and respectful series of commemorations.
Earlier Taoiseach Enda Kenny laid a wreath at the war memorial in Enniskillen, Co Fermanagh.
The ceremony was part of commemorations for Remembrance Sunday when the contribution of those who died in two World Wars and later conflicts is remembered.
Mr Kenny said it is important to remember those who fought and died in the Great War, particularly ahead of the decade of commemorations.
He said Enniskillen holds a certain poignancy because of the Enniskillen IRA bombing of 1987, which claimed 11 lives.
Ireland also participated in London's Remembrance ceremony for the first time since 1946.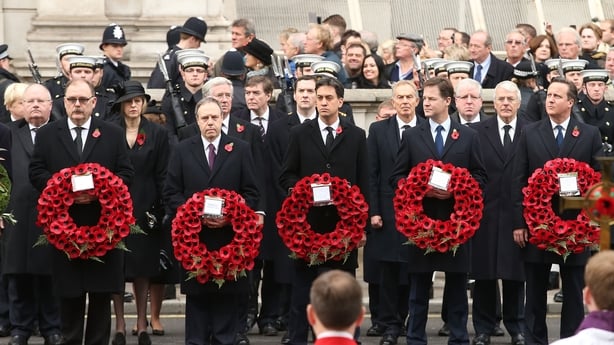 Ireland's Ambassador to Britain, Dan Mulhall, laid a wreath at the Cenotaph in London.
The Taoiseach said it is a mark of a more united people and signifies a stronger relationship between Ireland and Britain.
He said it follows on from a meeting between Queen Elizabeth and former Irish President Mary Robinson, and the subsequent visit of the Queen to Ireland, as well as the return visit of President Michael D Higgins to Britain.
Minister for Foreign Affairs Charlie Flanagan was among dignitaries participating in ceremonies at the Cenotaph at Belfast City Hall.
Meanwhile, Irish men who died in World War I were remembered in particular at a service at St Patrick's Cathedral in Dublin.
This year marks 100 years since the outbreak of the war.
The President was represented at the service by his Aide-de-Camp, Colonel Brendan McAndrew.
The service was also attended by Tánaiste Joan Burton, representatives of the Defence Forces as well as veterans and relatives.
The Tánaiste was joined by the British and US Ambassadors and representatives of the Defence Forces as well as veterans and relatives of those who fought in World War I. 
On his way in to the service, Lord Mayor of Dublin, Christy Burke defended his attendance at the event saying that he was the Lord Mayor of Dublin on official duties.
He said he commemorated all men and women who died in war - "every one of them".
Jim Roche of the Irish Anti-War Movement said they were demonstrating at the event because they wanted to question the way commemoration was being used to "justify the first world war".
He said the world should look back in anger at the way those who fought in the war were manipulated.
St Patrick's Cathedral has held a remembrance service each year since 1919.
This year, wreaths were laid at the Tree of Remembrance by Colonel McAndrew and Geoffrey Medcalf, MBE, national Vice President of the Royal British Legion.