Amnesty International has accused Israel of displaying a "shocking disregard" for civilian lives in Gaza during its 50-day military offensive in the Palestinian territory.
In a new report, Amnesty details eight instances in which Israeli forces attacked homes in Gaza "without warning", killing "at least 104 civilians including 62 children".
Israel rejected the group's findings, saying it produced "no evidence" to back up its claims in what was effectively "a propaganda tool for Hamas", while ignoring documented war crimes perpetrated by Hamas.
It cited "the use of human shields, as well as ammunition storage and firing at Israeli civilian population centres from within schools, hospitals, mosques and civilian neighbourhoods in Gaza".
Amnesty said: "The report reveals a pattern of frequent Israeli attacks using large aerial bombs to level civilian homes, sometimes killing entire families."
It added that while possible military targets were identified in some cases, "the devastation to civilian lives was clearly disproportionate".
The report charged that when it appeared to have failed to identify "any possible military target" in a Gaza residential building, Israel may have "directly and deliberately targeted civilians or civilian objects, which would constitute war crimes".
"The report exposes a pattern of attacks on civilian homes by Israeli forces which have shown a shocking disregard for the lives of Palestinian civilians."
Philip Luther, Amnesty's director for the Middle East and North Africa, said "civilians were given no warning and had no chance to flee".
Amnesty said: "Palestinian armed groups also committed war crimes, firing thousands of indiscriminate rockets into Israel killing six civilians including one child."
The group said it had to conduct research for the report remotely as Israel denied it and other watchdogs access to Gaza.
Amnesty called on Israel and the Palestinians to "accede to the Rome Statute and grant the International Criminal Court the authority to investigate crimes committed in Israel and the Occupied Palestinian Territories".
It also called for cooperation with the UN Human Rights Committee, which last month urged Israel to ensure an independent and impartial investigation to the Gaza war.
The Israeli foreign ministry said the report "serves as a propaganda tool for Hamas and other terror groups".
It noted Israel was currently carrying out investigations into "90 incidents" during the Gaza campaign.
Clashes at al-Aqsa compound
Israeli security forces clashed with Palestinians throwing stones and firecrackers inside Jerusalem's al-Aqsa compound this morning.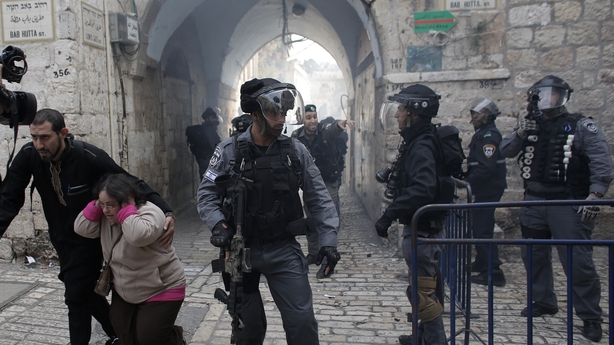 There have been almost daily clashes between Israeli security forces and Palestinians in the streets of East Jerusalem and the Old City compound.
Israeli police said Palestinians began throwing stones and firecrackers at police officers minutes before the sacred plaza, known to Jews as the Temple Mount and Muslims as the Noble Sanctuary, was to open for visitors.
The complex houses Islam's al-Aqsa mosque and is where two biblical Jewish temples once stood.
Television footage showed a few Israeli border policemen running through the compound while a group of Jewish worshippers and tourists waited outside to enter.
"Police entered the area, pushed the masked rioters back, and they fled back into al-Aqsa. Police closed the front gate of the mosque but did not enter," said police spokesman Micky Rosenfeld.
The officers used stun grenades to disperse the crowd and the situation was now under control, he said.
Omar Alkeswani, a Palestinian manager of al-Aqsa, said police entered al-Aqsa and that 20 people were wounded in the clash.
Driver shot dead after ramming pedestrians in Jerusalem
Meanwhile, an Israeli border policeman was killed and at least nine people were wounded when a driver deliberately rammed a car into pedestrians in Jerusalem, before the driver was shot dead by police.
Police described the incident as a "hit-and-run terror attack" and said it took place in the same area as a similar attack two weeks ago, in which a Palestinian rammed a car into a crowd killing a woman and a baby.
"A commercial vehicle hit and ran over pedestrians at a light rail station," police spokeswoman Luba Samri said. 
After the car came to a halt, the driver, who was wounded, "got out of the vehicle and started to hit people with an iron bar," she said.
He was shot dead by police who were in the area at the time, she added. 
Emergency services spokesman Zaki Heller said the car had driven down the light rail tracks then ploughed into people waiting on the platform.
Police units at scene of attack in Jerusalem. Injured taken to hospital. pic.twitter.com/XaYVGPhppH

— Micky Rosenfeld (@MickyRosenfeld) November 5, 2014