Minister for the Environment Alan Kelly has said that the Government is looking intensely at the water charges issue and that clarity will be provided on all issues by next week.
Speaking on RTÉ's Six One, Mr Kelly said that charges will be modest, affordable, and that certainty will be given on the amount to be paid, adding that "we have listened to the people".
Mr Kelly reiterated his position that serious errors and mistakes were made and that the Government underestimated both the scale of the project and the timeline for its set up.
"By next week we will have clarity on all of the range of issues; charges, the duration of those charges, we're looking at bringing in some sort of modest charges.
"Affordability is the key issue and, I think, we also need certainty in terms of what that will be for a number of years," he said.
Earlier, Taoiseach Enda Kenny also said the Government would make a decision on water charges very shortly.
The Government would be very clear and accurate about it so that people will have confidence in knowing what contribution they have to make, what it is for and what they get in return for that, he said.
Speaking at the offices of Facebook in Dublin, Mr Kenny said it is important from a Government perspective that high quality, high integrity, good clear water is available for people and businesses alike.
Meanwhile, the Irish Water chief John Tierney has apologised to customers for "mistakes that have been made".
Tens of thousands of people demonstrated across the country against water charges on Saturday.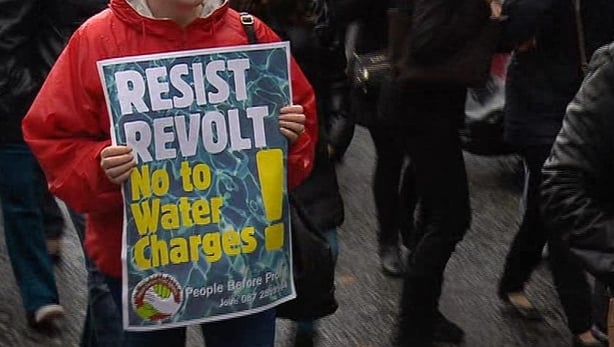 The Right2Water campaign said 150,000 people had turned out to protest.
Minister for Agriculture Simon Coveney earlier said there is no question of Irish Water being abolished.
He said that too much had been invested in the setting up of the utility, but insisted that the Government would learn from the mistakes made in its establishment.
Speaking on RTÉ's Morning Ireland, Mr Coveney said: "There's one certainty, and that's that Irish Water won't be scrapped."
Elsewhere, Fine Gael Meath West TD Ray Butler said water charges must be capped at between €100-€150 per household for the next three years, and could be reviewed annually after that period.
"This is what many backbenchers want and I'm confident it might happen," he said.
SIPTU president Jack O'Connor and former Labour minister of state Joe Costello have both called for a referendum that would guarantee Irish Water remaining in public ownership.
Labour Minister of State Ann Phelan has said the utility should not issue bills until there is certainty about the price.
Fianna Fáil leader Micheál Martin has described as "utterly bogus" a claim by the Taoiseach that the top rate of income tax would have to rise by 4% if water charges were not introduced.
He also said his party supports the call for a referendum to ensure that Irish Water remains a public utility and said people do not accept the Government's reassurance on that point.
Labour backbencher Dominic Hannigan has renewed his call for a referendum to copper-fasten the situation, and said he would be proposing as much to his parliamentary party.
Minister for Transport Paschal Donohoe has said he is "absolutely certain" that Irish Water will be a publicly-owned utility now and in the future.
He said he believes it is vital that Irish Water is in public ownership and said the only place that it can be dealt with is through the Oireachtas.
Mr Donohoe said: "Our Constitution is the place we deal with matters in relation to how we are governed and how constitutional issues are arranged".
He added that Fine Gael is committed to ensuring that Irish Water is a success and that certainty and clarity is brought to the matter in the coming weeks.
Minister for Jobs Richard Bruton has described water charges as an "anti-austerity measure" that allows for jobs creation and investment.
Mr Bruton said if there were no water charges the Government would have to come up with an alternative tax which would have a worse impact on job creation.
He said: "By taking this approach we are able to leverage double the amount of investment than if we did not have a charging system. It's an anti-austerity measure if you like."
Asked if he still had confidence in Mr Tierney, Mr Bruton said he did not find fault with people who admit mistakes and resolve to correct them.
On the subject of holding a referendum on keeping the water supply public, the minister said he was categorically opposed to ever considering the privatisation of Irish Water.
He said Fine Gael and Labour were also of that view and that it was up to Government to find ways of reassuring people of that.