Israel has decided to partially reopen Jerusalem's al-Aqsa mosque compound to Muslims from tomorrow, hours after ordering its closure and following Arab and US calls.
"It was decided to restore [the compound] to normal," police spokeswoman Luba Samri told AFP, adding that because of a fear of unrest at Friday midday prayers, entry for Muslim men would be restricted to those over 50.
She corrected an earlier statement saying the site would reopen immediately, saying instead that it would take effect "for dawn prayers, after midnight".
There would be no restrictions on Muslim women, she said.
Non-Muslims are routinely not allowed access on Fridays. Ms Samri also said the decision remained subject to security developments.
Israel had earlier said its closure of the al-Aqsa compound, or Temple Mount, Islam's third holiest site, which is also sacred to Jews, was temporary and aimed at calming tempers after police shot dead a Palestinian accused of trying to kill a far-right Jewish activist.
Yehuda Glick, a religious activist, was shot and wounded late yesterday. He has campaigned for Jews to be allowed to pray at the al-Aqsa compound, or Temple Mount, a holy site at the heart of the violence.
US Secretary of State John Kerry said he was worried about the escalation of tensions across Jerusalem.
"It is absolutely critical that all sides exercise restraint, refrain from provocative actions and rhetoric, and preserve the historic status quo on the Haram al-Sharif [al-Aqsa mosque]/Temple Mount - in word and in practice," Mr Kerry said in a statement.
Palestinian president Mahmoud Abbas had said Israel's closure of the mosque was tantamount to a "declaration of war".
"This dangerous Israeli escalation is a declaration of war on the Palestinian people and its sacred places and on the Arab and Islamic nation," his spokesman Nabil Abu Rudeina quoted him as saying.
Israeli police shot dead a Palestinian after he fired at them resisting arrest in East Jerusalem hours after the attempted assassination of the activist, police said.
An official Hamas website identified the man who was killed as Moataz Hejazi, 32, who had spent 11 years in an Israeli jail and was released in 2012.
Police took the rare step of shutting the compound to all worshippers and visitors until further notice, after far-right Israeli activists urged adherents to go to the site en masse in response to the shooting.
There was a heavy police deployment in the East Jerusalem neighbourhood of Silwan, adjacent to the Old City, and a helicopter circled overhead.
Tension has risen steadily in the eastern side of Jerusalem since just before a Gaza war that ended in August, with almost nightly clashes between Israeli security forces and Palestinian protesters throwing rocks and petrol bombs.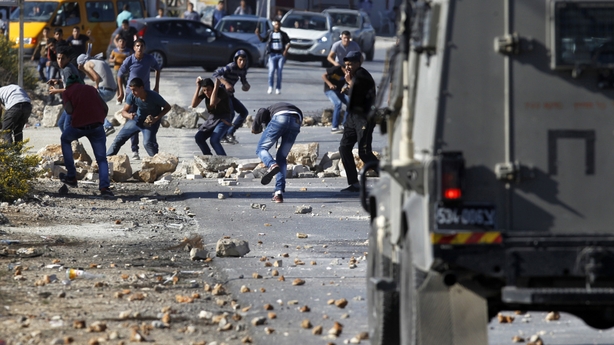 Sweden formally recognises state of Palestine
Meanwhile, Israel has recalled its ambassador to Stockholm for "consultations", hours after Sweden officially recognised the state of Palestine, the Israeli foreign ministry spokesman said.
"This indeed reflects our irritation and annoyance at this unhelpful decision which does not contribute to a return to [peace] negotiations," Emmanuel Nachshon told AFP.
Earlier Sweden has become the first major European country to officially recognise the state of Palestine. Earlier this mornth the UK House of Commons voted in favour of recognising Palestine as a state in a non-binding vote.
Swedish Foreign Minister Margot Wallstrom told reporters her government hoped it would bring a new dynamic to the situation.
"Our decision comes at a critical time because over the last year we have seen how the peace talks have stalled, how decisions over new settlements on occupied Palestinian land have complicated a two-state solution and how violence has returned to Gaza," Ms Wallstrom said.
Ms Wallstrom rejected accusations that Sweden was taking sides and said she hoped other EU countries would follow its lead.
The UN General Assembly approved the de facto recognition of the state of Palestine in 2012, but the European Union and most EU countries have yet to give official recognition.
Last week the Seanad passed a motion calling on the Government to recognise the state of Palestine.
Tabling the motion, which had cross-party support and passed without a vote, Fianna Fáil senator Averil Power said Ireland should "make it clear that statehood is a right of the Palestinian people and not a bargaining chip for the Israelis to play in further sham negotiations".
The Ireland-Palestine Solidarity Campaign called the move an important expression of support for Palestinian statehood that would "increase diplomatic pressure on Israel to end the occupation".
Israel criticised over settlement plans
The United Nations and the United States have strongly criticised Israel over its plans to build 1,000 homes on the occupied territory of East Jerusalem.
An Israeli government official said that Prime Minister Benjamin Netanyahu will expedite preparations for the new settler homes.
The Israeli plans, along with Palestinian concerns about Jerusalem's holy sites, prompted the Palestinians to ask Jordan to request an emergency UN Security Council meeting in the hope that its 15 members would condemn recent Israeli actions.
Diplomats said the council was unlikely to take any action.
"If pursued, these plans would once again raise grave doubts about Israel's commitment to achieving durable peace with the Palestinians as the new settlements threaten the very viability of the future State of Palestine," UN Under Secretary-General for political affairs Jeffrey Feltman told the meeting.
Palestinian observer Riyad Mansour said Israeli settlements were eroding the future Palestinian state, of which East Jerusalem is to be the capital.
"Every day the territorial contiguity and integrity of our state is being fragmented and undermined by such illegal actions, seriously diminishing the viability of the two-state solution," he said.
He also complained about Israel's approach to Jerusalem, including holy sites like the Temple Mount and al-Aqsa mosque.
"Jerusalem is under siege," Mr Mansour said, adding that Israeli provocations at al-Aqsa and Dome of the Rock mosques were "threatening to incite yet another cycle of violence".
Israeli Ambassador Ron Prosor dismissed Mr Mansour's criticisms, telling council members that the Palestinians were propagating "half truths, myths and outright lies about Israel".