President Michael D Higgins has thanked the Irish people for "the sheer warmth of support" they have shown him in his three years in office.
Speaking in Wales three years on from the announcement of his election, he said: "Both Sabina and I are extraordinarily moved by the sheer warmth of support.
"The amount of people who go to the trouble of writing in to me and offering support.
"There is a great, great energy that comes from that and I am very, very grateful for it."
President Higgins said that each of his three years in office have "brought enormous, powerful events".
He cited his State visit to Britain earlier this year as a particular highlight.
President Higgins concluded his visit to Wales today with a number of meetings with members of the Irish community.
He and Mrs Higgins visited the Ireland-Wales programme at Swansea University this morning.
They attended a reception hosted by Ambassador Dan Mulhalll and his wife Greta this afternoon.
They also met representatives from the Irish community at the Wales Millennium Centre in Cardiff.
Mr Higgins described his first visit to Wales as President as "extraordinarily warm and very positive".
More than 14,000 first-generation Irish people live in Wales.
Last night, the President read from the Dylan Thomas poem 'Elegy' at an event to celebrate the 100th anniversary of the poet's birth at Swansea's Grand Theatre.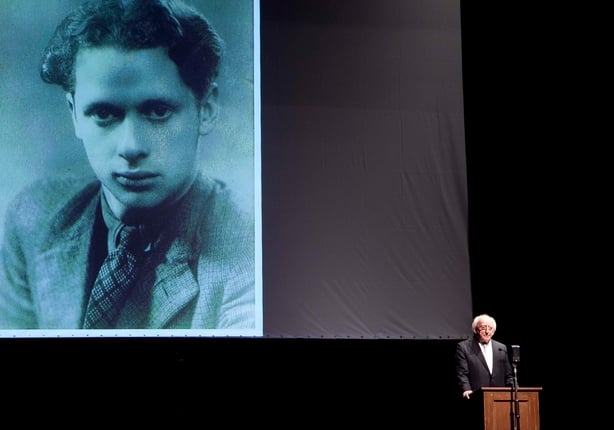 The 'Dylathon' saw several well-known figures from the arts recite all of Thomas's writings over a 36-hour period.
As well as President Higgins, the Welsh First Minister Carwyn Jones read some of Thomas's work.
Actor Ian McKellen, who starred in 'Lord of the Rings', recited a number of the Welsh poet's works, including 'Do not go gentle into that good night'.
Mezzo-soprano Katherine Jenkins joined Mr McKellen to recite some of 'Under Milk Wood'.