A study by the World Economic Forum has found that the global gender gap has narrowed in the past ten years.
The WEF said the gap has narrowed due to increased access for women to politics and the workforce.
Overall, the survey found that 105 countries have become more equal since 2005.
The gender gap grew in only six nations over the same period - Sri Lanka, Mali, Croatia, Macedonia, Jordan and Tunisia.
The report sought to measure the relative gaps between women and men in health, education, the economy and politics in 142 countries around the world.
Ireland has slipped to eighth place in the latest annual gender gap survey, down from sixth last year and fifth in 2011 and 2012.
Iceland and four other Nordic countries made up the top five, with the Central American state of Nicaragua, and new entrant, Rwanda coming in ahead of Ireland.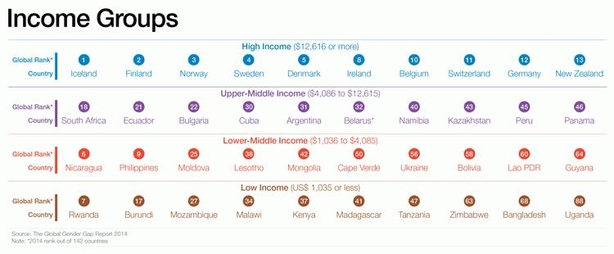 The report's author Saadia Zahidi said: "Ireland has slipped two places in the overall rankings since last year, but it remains one of only six countries to have gained more than 10% in its Global Gender Gap Index score over the last 14 years."
The UK has fallen to 26th place, down from 18th last year, while Yemen placed last.