The World Health Organisation has said the Ebola outbreak in Senegal is officially over.
However, it warned that the country remains vulnerable to further cases of the deadly disease being brought into the country.
Twice the maximum incubation period of 21 days, or 42 days, has passed since a Guinean man who travelled to Dakar was confirmed as having Ebola, the WHO said in a statement.
The organisation praised Senegalese authorities for their "diligence".
The man has recovered and his 74 known contacts have not caught the disease.
The UN agency said: "While the outbreak is now officially over, Senegal's geographical position makes the country vulnerable to additional imported cases of Ebola virus disease.
"It continues to remain vigilant for any suspected cases by strict compliance with WHO guidelines."
More than 4,500 people have died in the outbreak that began in west Africa at the beginning of the year, according to latest WHO figures released today.
It said that 4,555 people had died from Ebola out of a total of 9,216 cases registered in seven countries.
Meanwhile, US President Barack Obama has appointed former White House adviser Ron Klain as Ebola "czar" to coordinate American efforts to combat the deadly virus.
In choosing Mr Klain, Mr Obama is turning to a trusted former aide who had been part of the White House inner circle earlier in his administration.
He is expected to hold the position for five or six months, White House spokesman Josh Earnest said.
The US has authorised the Pentagon to send military reserves to take part in a mission to combat the Ebola epidemic in west Africa.
President Obama said reservists could be called up to active duty for humanitarian aid operations "related to the Ebola virus disease outbreak in west Africa," according to an executive order released by the White House.
The US military has said it plans a force of 3,200 troops in Liberia and Senegal to provide logistical and engineering support in the international fight against the deadly virus, but said it has approval to expand the mission to nearly 4,000 if needed.
There are now more than 500 active duty US troops in Liberia and Senegal for the mission.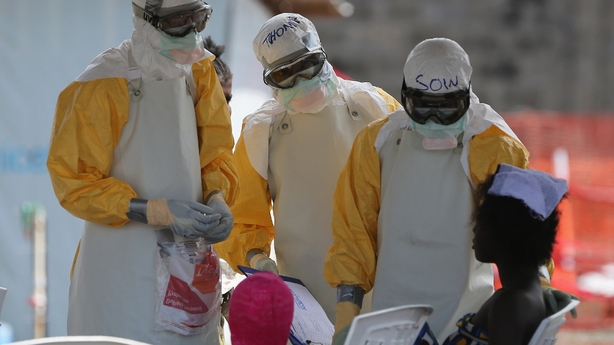 The reservists, who would be called up due to their particular technical expertise, would be part of that 4,000-strong force, a military official said.
Earlier this week, the US President once again urged the international community to do more to combat the outbreak of the virus, which has killed nearly 4,6500 people, almost all of them in Liberia, Sierra Leone and Guinea.
In a video conference with his British, French, German and Italian counterparts, he called on them to "make a more significant" contribution to the fight.
Yesterday, EU health ministers agreed to begin an immediate review of the screening of passengers departing Ebola-hit countries in west Africa.
Chronology - Worst Ebola outbreak on record
The ministers also agreed to "co-ordinate" measures at entry points to the 28-nation union, although any decision on screening for Ebola rests with individual countries.
All four suspected Ebola cases admitted to hospitals in Spain have tested negative in a first round of tests according to the Spanish government.
The four include three men who recently arrived in Spain from badly affected African nations, all of whom were hospitalised on Thursday.
The suspected cases comprise a passenger who arrived in Madrid on Thursday from Nigeria via Paris who had started shaking during the trip, and a missionary who came recently from Liberia.
A Red Cross worker who had travelled from another badly-affected country, Sierra Leone, also tested negative at a hospital on Tenerife in Spain's Canary Islands.
Two people who live with the Red Cross employee were quarantined as a precautionary measure although they did not display any symptoms and were not tested.
The fourth person to test negative was a man who was transported in the same ambulance used to hospitalise a Spanish nurse infected with Ebola, Teresa Romero.
The nurse caught Ebola while caring for two infected missionaries who were repatriated from west Africa, and who died from the virus shortly after arriving in Spain.
Ms Romero is the first person known to have become infected with Ebola outside of Africa.
UN chief calls for more funding to fight Ebola
United Nations Secretary-General Ban Ki-Moon has called for more financial support from the international community for the struggle against Ebola in west Africa, after it emerged that a trust fund he set up has received only $100,000 (€78, 201).
The fund, which is part of a $1bn UN appeal for humanitarian needs in Liberia, Sierra Leone and Guinea, is intended to provide fast and flexible funding for the medical response.
Mr Ban said last night that a "huge and urgent global response" was needed and that countries that have "the capacity" should provide funding now.
"I believe that it is time that those other countries who really have the capacity provide financial support and other logistical support," said Mr Ban.
"This is quite serious. We need an urgent global response and support."
The wider UN appeal has received $376 million in pledges, which is about 38% of the amount sought, though some countries are also providing help directly to affected countries and humanitarian agencies.
Mr Ban's predecessor as secretary general Kofi Annan has said he is "bitterly disappointed" at the scale and speed of the international community's response to the crisis.