One of the people on the Malaysia Airlines flight MH17 shot down in Ukraine in July was found wearing an oxygen mask, the Dutch foreign minister has revealed.
It raises the possibility that some passengers might have known their plane was doomed.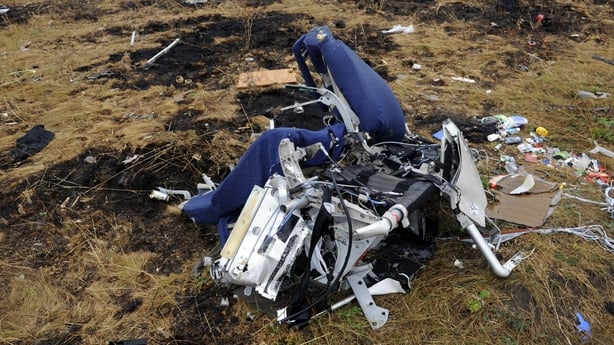 "You know that somebody was discovered wearing an oxygen mask and had time to put it on," Foreign Minister Frans Timmermans told a talk show on national television last night.
Mr Timmermans, the new incoming vice-president of the European Commission, said this morning he regretted making the announcement before victims' families had been informed by prosecutors.
"The last thing I wanted to do was increase their pain. I should not have said it," he said after relatives reacted with horror to his comment.
Dutch prosecutors confirmed this morning they were investigating after the oxygen mask was discovered draped around the person's neck.
"How and when the mask ended up around the victim's neck is unknown," the prosecutors stressed.
"The Dutch Forensics Institute examined the mask looking for fingerprints, saliva and DNA, but the probe has not revealed any result," they said in a letter to victims' families.
None of the other victims of the fatal crash that killed all 298 on board - 193 of them Dutch - was wearing an oxygen mask, they added.
Prosecutors, who sent their letter in reaction to Mr Timmermans' comment, said they were still investigating the circumstances of the found oxygen mask.
Currently, "no conclusions can be drawn from the discovery", prosecutors said.
The Malaysia Airlines Boeing 777 was shot down on 17 July while flying over rebel-held territory in eastern Ukraine.
The findings of an initial report by a Dutch-led team of air crash investigators appear to back up claims that the plane was hit by an anti-aircraft missile.
Ukraine and the West have accused separatists of shooting it down with a surface-to-air BUK missile supplied by Russia.
Russia denies the charge and has pointed the finger back at Ukraine.
Forensics experts suspended their search for bodies due to clashes between Ukrainian troops and the pro-Russian rebels near the crash site northeast of Donetsk, but said they hoped to return once the fighting died down.