Tánaiste Joan Burton has said she hoped next week's Budget would contain a housing package and that investment in social housing could result in a "win-win" situation.
Ms Burton was commenting on the ESRI forecast, which recommended an investment programme in social housing.
She said: "There are families who need homes, and we have 70,000-80,000 people formerly employed in construction, who've been unemployed now for anything up to six or seven years. 
"I'm very anxious to get them back to work, building the houses that families need, so it's a virtuous cycle in terms of economics.
"I would hope to see a housing package as part of the Budget."
Ms Burton said the Government parties had not yet signed off on the Budget, but added that "housing is a priority".
"We're aware that we have a growing population of young families, we haven't been building houses since the collapse began, really from late 2007, and there's a deficit to be made up."
Speaking on her arrival at a conference on European unemployment in Milan, the Tánaiste also said that families with children would be prioritised in the Budget.
She said that since the reshuffle in July it had been agreed that families on middle and low income would be a priority, "in particular, families with children, families with children going back to work, families with children in work, also issues relating to families in retirement".
The Tánaiste was attending the jobs conference under the Italian presidency of the EU.
Taoiseach Enda Kenny was originally scheduled to attend the meeting, but withdrew yesterday evening.
Asked about the broader European debate over the need to press ahead with structural reforms or to shift the emphasis away from austerity, Ms Burton said there had to be both greater public investment combined with structural reforms. 
She said the Italian presidency of the EU had put an emphasis on investment in infrastructure as a vehicle for increasing employment.
The Tánaiste said: "Our unemployment rate has fallen to 11.1%, below the European average, and we now have the lowest unemployment figures since the great recession began.
"I think that together with a reform package, putting that together you're creating more demand in European economies.
"The big risk to the eurozone at the moment is deflation and excessive deflation which could bring forward a depression and could result in people staying unemployed."
The Tánaiste pointed to a pilot programme in Ballymun, which was part of the EU's youth guarantee scheme. She said the scheme had resulted in a 16% fall in the levels of unemployment among those involved in the programme.
Arriving at the meeting in Milan, French President Francois Hollande said that one in four young people were unemployed in Europe.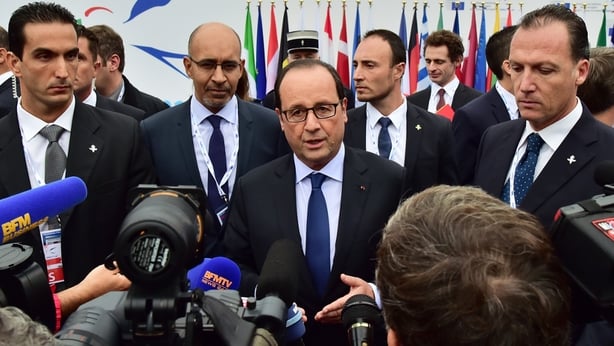 France and Italy have been pushing for greater flexibility under the EU's fiscal rules so that member states could spend more on infrastructure projects without breaching the 3% budget deficit rule.
Germany and others have argued that structural reforms and reducing deficits were the best route to economic recovery.
A special summit devoted to jobs and economic growth was announced by Italian Prime Minister Matteo Renzi in August.
A meeting was scheduled, then cancelled, then rescheduled.
It was not a formal summit, so no big decisions were going to be taken. It was downgraded to a high-level conference.
The meeting came against a backdrop of persistent divisions in Europe about how to boost economic growth.
Mr Renzi has enjoyed some political capital since his party's performance in the European elections in May but it appears to be running out both domestically and internationally.
A report by the IMF yesterday, warning that the eurozone could slip into a third recession since the financial crisis struck, means the debate is far from an academic dispute.