Hong Kong student leaders have called off talks with the government after angry scuffles erupted at their pro-democracy demonstrations.
The student leaders claimed police had allowed triad criminal gangs to attack their protest camps.
The Hong Kong Federation of Students said it had "no other option but to call off the talks", which were aimed at bringing an end to days of massive demonstrations.
HKFS said "the government and police today turned a blind eye to violent acts by the triads targeting peaceful Occupy protesters".
Scuffles between pro-democracy protesters and groups supporting Beijing broke out in a key Hong Kong shopping district, prompting police to form a human chain between them.
More than 50 police were sent to Mong Kok, just north of the Tsim Sha Tsui shopping district on the Kowloon side of the harbour.
They moved in to break up pushing and shoving between protesters calling for universal suffrage and the pro-China groups trying to pull down supply tents and protest barricades in the area.
Volunteers said several people were injured but could not confirm a total figure.
Mong Kok, considered one of the most heavily populated places on earth, is hugely popular with tourists from mainland China.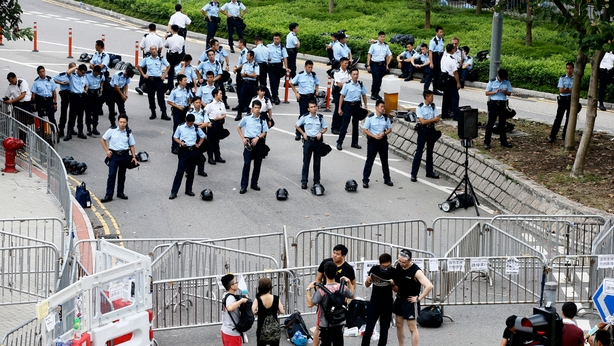 Tens of thousands of students and activists have taken to the streets of the former British colony in the past week to demand full democracy, including a free voting system when they come to choose a new leader in 2017.
Numbers dwindled considerably at one protest site amid heavy rain and as Hong Kong people returned to work after a two-day holiday.
Student leaders had earlier accepted an invitation to talks with senior government officials to discuss their demands.
The territory's chief executive Leung Chun-ying offered the negotiations, shortly before the expiry of a deadline last night, set by students who had threatened to occupy government buildings.
China's state media said authorities would not make concessions to the protesters and that their cause was "doomed to fail".
The protesters' demands for unfettered elections are "neither legal nor reasonable", said the People's Daily newspaper in a defiant front page editorial.
China's parliament, the National People's Congress, ruled in August that candidates for Hong Kong elections would be selected by a committee, a move criticised by protesters as "fake democracy".
The People's Daily said that: "Upholding the decision of the standing committee of the National People's Congress is the necessary decision, and the only decision."
The protests are "against legal principles, and doomed to fail", it said, adding: "There is no room to make concessions on important principles."
Analysts say that Beijing is wary of granting protesters' demands, as it fears that backing down in the face of demonstrations could create a precedent for public protest that would be unacceptable to the Communist leadership.
China's official military newspaper, the People's Liberation Army Daily, reported on its front page that more than 1,000 troops in Hong Kong had received "political training", stressing loyalty to the Communist party.
The training aimed to "make the voice of the party the strongest voice in the barracks, and ensure absolute loyalty from the troops," it said.
Beijing stations soldiers in Hong Kong but local politicians have so far ruled out military intervention.