Taoiseach Enda Kenny chaired the 18th plenary meeting of the North-South Ministerial Council in Dublin Castle today.
Mr Kenny said ministers from both sides of the border had discussed a wide range issues.
The Taoiseach, Northern Ireland First Minister Peter Robinson and Martin McGuinness all condemned the overnight burning of an Orange hall in Donegal.
They were also tributes to Ian Paisley and Albert Reynolds for their respective roles in the peace process.
The meeting was the first since the two governments agreed to become involved in a new round of talks to address the problems in the peace process.
The head of Northern Ireland's Civil Service also warned this week that the administration was in danger of going into the red by April.
The Taoiseach said Minister for Finance Michael Noonan had briefed the meeting on economic issues.
He said ministers had discussed the joint trade mission to Singapore and more joint North-South missions were planned.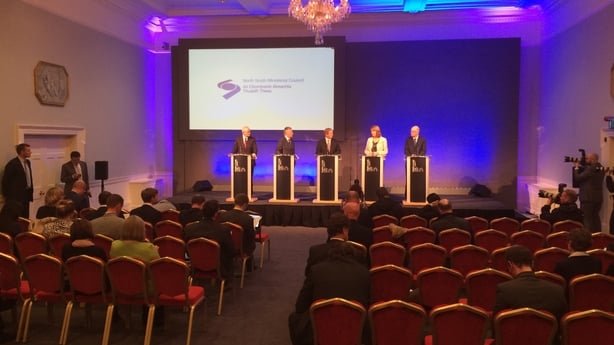 Mr Kenny said ministers had agreed to meet again in Armagh in December.
Mr Robinson said the two economies were moving into a better position, with instances of business reinvesting in Northern Ireland, although there were difficulties that he would not shy away from.
Mr McGuinness said Mr Robinson and himself took great pride in the level of foreign investment in Northern Ireland.
He said there were challenges ahead, but with a good spirit decisions could be made that would remove those challenges.
Mr Kenny was asked about the role of the Government in elements of the planned talks that dealt with internal matters in Northern Ireland.
He said there was always tension associated with these type of talks.
Mr Kenny said Minister for Foreign Affairs Charlie Flanagan would be sitting down with Secretary of State Theresa Villiers to work out the details.
Mr Robinson said the three-stranded approach was well established and the Northern Ireland parties would step back on east-west matters.
He said without those talks there was a very real danger to the institutions of Northern Ireland.
Mr McGuinness described any talk of tension regarding the talks as much ado about nothing.