The European Parliament's Committee on Agriculture has voted overwhelmingly in favour of Phil Hogan's nomination as Commissioner for Agriculture and Rural Development, according to a source.
According to a secret ballot, 32 MEPs voted in favour of Mr Hogan being a member of the European Commission, with ten MEPs voting against.
A total of 31 MEPs voted in favour of him taking up the agriculture portfolio, with 11 voting against.
The vote was requested at an in camera meeting of the committee by the far left group (GUE), which includes Sinn Féin MEP Matt Carthy, independent MEP Luke Ming Flanagan and the eurosceptic Europe of Freedom and Direct Democracy (EFDD) group.
Mr Hogan earlier attended a three-hour hearing at the European Parliament during which his suitability to become the next Commissioner for Agriculture and Rural Development was assessed.
Mr Hogan faced questions from 45 members of the Agriculture Committee on a range of issues relating to the EU farming sector and also on his political record in Ireland.
Technically the parliament cannot reject an individual candidate, only the commission as a whole can be formally voted down by the entire parliament.
But if a candidate performs poorly, or indeed has some domestic political baggage, pressure has been brought to bear on the president of the commission to persuade the candidate to withdraw.
There has been some publicity in Brussels about Mr Hogan's troubles over how much he knew about consultancy fees for Irish Water, and more recently the legal threats directed at MEP Nessa Childers over his alleged intervention in a housing issue.
European Commission President-elect Jean-Claude Juncker believes all nominees for his new European Commission team have convincingly demonstrated their competence, a commission spokeswoman said.
Despite some of the commissioners-designate having troubled hearings in the European Parliament, spokeswoman Mina Andreeva said Mr Juncker was satisfied with their performance.
During Mr Hogan's  hearing this morning, Mr Carthy asked Mr Hogan about legal letters, Irish Water and the dropping of an inquiry into alleged planning irregularities in seven local authorities.
Mr Carthy asked how many legal letters had been sent to journalists and political opponents.
He also queried that, given the level of legal actions initiated by Mr Hogan and inquiries, if he would have the concentration to focus on the job.
Responding, Mr Hogan said that he had spent 27 years as a member of Irish parliament.
"I know what parliamentary privilege is and I know what it isn't and you would expect politicians to defend themselves if they are defamed and that's what I intend to do and that's what I have done," he said.
Mr Carthy also asked about Mr Hogan's knowledge of spending of €50 million in consultancy fees by Irish Water.
Mr Hogan said: "If you're going to set up a new system it costs money to do so and it has been independently evaluated by the Commission for Energy Regulation and of the €180 million spent and allocated, €172.8 million has been deemed to be appropriate. That's not a bad record."    
He said he did not shut down any inquiry into alleged planning irregularities and the delegated function of the inquiry was with another ministry.
He told Mr Carthy he had the wrong ministry and the wrong person, in the wrong place at the wrong time.
Mr Hogan said he was aware that Mr Carthy was not only against Europe, but also against his nomination, and he read a letter of support from the Sinn Féin Minister for Agriculture in Northern Ireland.
He told the MEP for Midlands North West there seemed to be a little breakdown in discipline in Sinn Féin and he hoped he would not get into trouble over it.
'Poor political judgement'
Speaking on RTÉ's Morning Ireland earlier, Mr Carthy said Mr Hogan's threatened legal challenge against Ms Childers over his alleged intervention in a housing issue was considered poor political judgement among European politicians.
He said: "Unfortunately, Phil Hogan's record is that every brief he has been mired in controversy at one level.
"In terms of overall views within the European Parliament, I can tell you that his decision to send legal letters to political opponents in relation to what I would consider to be legitimate questions to raise has gone down like a lead balloon.
"It is considered not only bad form by MEPs from right across the political spectrum and member states but it's considered to be very poor political judgement."
Mr Carthy said he supported Ireland securing the Agriculture and Rural Development portfolio and had appealed to Taoiseach Enda Kenny to nominate someone in whom he could have confidence.
He said he did not feel he could support Mr Hogan's nomination for the position.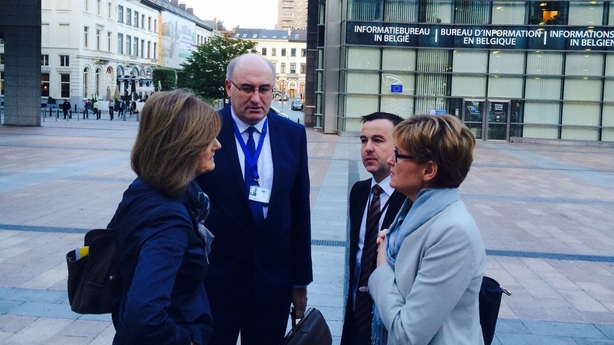 MEP Mairead McGuinness asked Mr Hogan about the retail sector and unfair commercial practices that producers and suppliers face.
She cited an example of the Aldi tendering process for the vegetable sector, which she said the Irish Farmers' Association indicated was crippling the sector.
Producers are in fear of the supermarkets they are dealing with and in fear of complaining, she added.
Ms McGuinness said it was also an issue in the beef sector, and she asked Mr Hogan what he would do to deal with the issue, which is about sustainability of the food supply chain and removing fear from producers.
She said it was a critical issue because farmers' incomes rely on it and asked if he believed the voluntary code was enough.
Mr Hogan said he welcomed the progress in recent years to address unfair practices, adding that a rapid concentration of retailers has led to uneven bargaining power.
He said the voluntary initiative promoted by processors and retailers in some member states still lacks an effective enforcement mechanism and does not include an opportunity for confidential complaints.
He said Ireland is an example of recent protections set up against unfair practices.
Mr Flanagan, MEP for the Midlands North West, questioned Mr Hogan on "convergence", citing proposals that EU member states move to uniform rates of payment per hectare by 2019. 
Mr Flanagan said Ireland has adopted a "partial convergence model", which has resulted in a situation whereby the richest 20% will continue to get close to 80% of the payments. 
He referred to the possibility of a mid-term review, saying Mr Hogan has a history of "helping out your cronies".
He asked whether he would "continue this trend, by leaving the majority of with the ranchers and the millionaires?"
In relation to reports in today's Irish Independent that the commissioner-designate sent a number of CVs to the head of Irish Water, Mr Hogan said he makes representations on behalf of people in both the public and private sector as part of his job. 
He said none of the people whose CVs he sent subsequently got a job, adding he "must be losing his influence over the company he helped establish".
Priorities outlined in Hogan statement
In his opening statement, Mr Hogan outlined his priorities, including providing stability, predictability and practical solutions to farmers under reform of the Common Agriculture Policy.
He said the screening of CAP would help to cut the administrative burden.
Mr Hogan said that after one year of experience with the CAP reform he would review the policy, particularly in relation to payments and he would simplify the fruit and vegetable sector.
He added that throughout his political career he has put forward the case for Europe and actively campaigned for all of the treaties that have brought greater democratic legitimacy.
Mr Hogan also said he chaired the EU Environment Council during Ireland's presidency of the European Union.
He had made it a priority to ensure that Ireland complied with EU law and Ireland's infringements fell to nine from more than 30, he added.
Mr Hogan said he would want strong co-operation within the Agriculture Committee.
He told MEPs at the hearing that more business opportunities should be opened up to handle new markets as demand rises across the globe.
The former minister also said the environment and sustainability will continue to be central to the EU's ability to produce in the future.