Two British fighter jets flew over Iraq today according to Britain's Ministry of Defence.
The two Tornado jets left the British Royal Air Force's Akrotiri base in Cyprus at around 8.25am Irish time and returned more than seven hours later, according to a local witness.
It was not immediately clear if they had carried out any strikes.
"We can confirm that ... Royal Air Force Tornados continue to fly over Iraq and are now ready to be used in an attack role as and when appropriate targets are identified," a Ministry of Defence spokesman said after the take off.
Yesterday the UK parliament voted 542 to 43 to back Prime Minister David Cameron's decision to take part in the US-led air strikes.
Today's mission is the first time a British aircraft flew over Iraq in an armed role since Islamic State militants swept across large areas of Northern Iraq in June.
Six Tornado jets, normally based at RAF Marham in England, have been based on the east Mediterranean island since August.
They have been engaged in intelligence-gathering and reconnaissance over Iraq for the past six weeks.
Despite ongoing US-led air strikes, IS fighters tightened their siege of a town on Syria's border with Turkey yesterday.
The Islamic State has emerged as the most powerful Sunni militant group battling Shi'ite-backed governments in Iraq and Syria.
The militants are fighting rival Sunni rebel groups in Syria and Kurds in both Syria and Iraq, countries facing complex, multi-sided civil wars in which nearly every state in the Middle East has a stake.
Coalition against IS draws widespread support internationally
Belgium's parliament has also voted 114 to 2 to take part and Denmark said it would send planes. Six Belgian F-16s took off for a staging post in Greece even before the vote.
"This is not a threat on the far side of the world. Left unchecked, we will face a terrorist caliphate on the shores of the Mediterranean and bordering a NATO member, with a declared and proven intention to attack our country and our people," Mr Cameron told British Parliament.
Until this week France was the only Western country to answer President Barack Obama's call to join the campaign.
Since Monday, Australia and the Netherlands have also joined. On Friday Germany expressed support for the mission despite saying it would not send aircraft of its own.
Mr Obama has sought international support for a military coalition against Islamic State, a powerful force in Syria which swept across northern Iraq in June, slaughtering prisoners and ordering Shi'ites and non-Muslims to convert or die.
The campaign has brought Washington back to the battlefield in Iraq that it left in 2011 and into Syria for the first time after avoiding involvement in a war that began the same year.
The coalition also includes several Arab states, all led by Sunni Muslims alarmed at the rise of Islamic State.
French public support for the mission surged this week after the beheading of a French tourist in Algeria by captors who said it was retaliation for French participation in strikes in Iraq.
Paris said it might also join US strikes in Syria although there was no plan yet to do so. European countries have so far agreed only to strike targets in Iraq, where the government has asked for help, and not in Syria, where President Bashar al-Assad has not given permission, although he has not objected.
Russia questioned the legality of US and Arab air strikes in Syria because they were carried out without the approval of Damascus, Moscow's ally.
"It's very important that such cooperation with Syrian authorities is established, even now that it's an accomplished fact," Russian Foreign Minister Sergei Lavrov told reporters on the sidelines of the UN General Assembly in New York.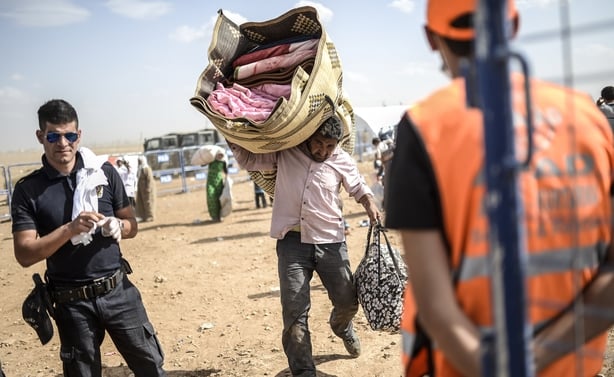 IS continues to advance into Syria
More than a month since the US military began striking Islamic State targets in Iraq, and four days since it extended the campaign into Syria, there are signs fighters are lowering their profile in areas they control to become a harder target.
General Martin Dempsey, chairman of the US Joint Chiefs of Staff, said this week's strikes in Syria had disrupted Islamic State's command, control and logistics capabilities.
But Dempsey said a Western-backed opposition force of 12,000 to 15,000 would be needed to retake areas of eastern Syria controlled by the militants.
US assessment teams have arrived in Saudi Arabia to map out a program expected to train more than 5,000 opposition fighters in the first year.
"We have to do it right, not fast," Dempsey said.
The air campaign has yet to halt Islamic State's advance in Syria, where fighters have laid siege to a Kurdish town on the Turkish border, sending 140,000 refugees across the frontier since last week in the fastest exodus of the three-and-a-half-year-old civil war.
Islamic State fighters appeared to have taken control of a hill 10km west of Kobani from where the YPG, the main Kurdish armed group in northern Syria, had been attacking them.
The British-based Syrian Observatory for Human Rights, which monitors the war, said Islamic State fighters had also taken control of a village around 7km east of Kobani.
Kurdish forces said on Thursday they had pushed back the advance on Kobani, also known as Ayn al-Arab, but appealed for US-led air strikes on the insurgents' tanks and heavy weapons.
"The clashes are moving between east, west and south of Kobani ... The three sides are active," Idris Nassan, deputy foreign minister in the area's Kurdish administration, said by phone from the centre of the town.
"They are trying hard to reach Kobani. There is resistance here by YPG, by Kobani and some volunteers from north Kurdistan Turkish Kurds," he said.
"Every girl, every young man, every man who is able to fight, to carry a gun, they are armed and they are ready to defend and fight."
NATO member Turkey has been conspicuously absent from the coalition against Islamic State, angering its Kurdish residents.