At least 43 people have died and many are missing in floods and landslides caused by heavy rains that lashed India's remote northeast, officials have said.
It is the second flood tragedy to strike the country this month.
Officials in the mountainous state of Meghalaya said at least 25 people had drowned or died in landslides.
There are 24 more people reported missing in the Garo Hills district of the state.
"The death toll could further rise, as more news starts coming from the submerged villages," said Pravin Bakshi, deputy commissioner of the West Garo Hills district.
Villages were still inundated, even though water levels had receded in most of the affected areas, Mr Bakshi added.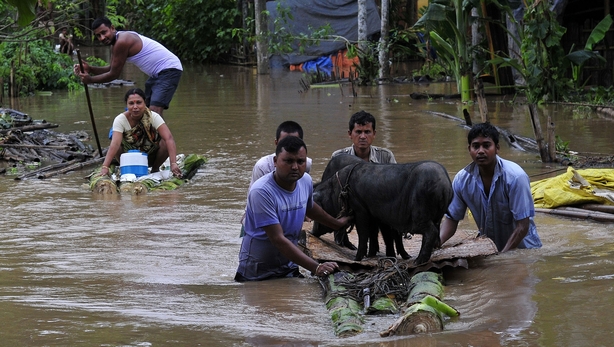 The damage caused by floods and landslides is "unprecedented", said Mukul Sangma, chief minister of Meghalaya, after making an aerial survey of the flood-hit areas.
In the tea and oil rich state of Assam, rescue workers pulled 12 more bodies from the flood waters, taking to 18 the death toll since Monday.
Power supply disruptions continued in most parts of Guwahati, the region's biggest city, adding to the woes of people wading through waterlogged homes.
Thousands of people in the affected areas, which are in western Assam, complained of an inadequate supply of relief materials and drinking water.
Operations at tea plantations and oil wells, which are concentrated in the eastern part of the state, have been unaffected by the floods.
Earlier this month, at least 460 people died in flooding in Indian-controlled Kashmir and neighbouring Pakistan.