A special one-day global climate summit featuring 120 world leaders has taken place at the United Nations in New York.
Today's special summit was the first time in five years that world leaders gathered to address climate change.
However, the leaders of some of the biggest industrial nations were not in attendance; Russia, China and India sent representatives instead.
The summit agreed to widen the use of renewable energy and raise billions of dollars in aid for developing countries in an effort to increase the prospects for a wide-ranging deal to slow global warming.
The summit set goals to halt losses of tropical forests by 2030, improve food production and hike the share of electric vehicles in cities to 30% of new vehicle sales by 2030.
The non-binding initiatives were set by various coalitions of governments, multinational companies, cities, financial groups, investors, environmental organisations and other groups.
The targets are meant to help prepare a 200-nation summit in Paris in late 2015 to finalise a deal to slow rising greenhouse gas emissions.
Until now, work has been slow with many countries more focused on improving economic growth and creating jobs.
Governments and investors said they would raise more than $200bn in climate financing by the end of 2015, including $30bn in green bonds by commercial banks and $100bn from a group of development banks.
"This will serve as a catalyst in finalising a universal and meaningful agreement at Paris on climate change in 2015," UN Secretary-General Ban Ki-moon said of the cash.
The UN said in a statement that pledges of financial support would give a "significant boost" to a promise by rich nations in 2009 to raise $100bn a year by 2020 from all sources to help poor countries shift to renewable energy and adapt to heatwaves, droughts and rising seas.
The one-day summit was hosted by the UN Secretary-General.
He had challenged the world's leaders to outline their plans to combat climate change and each of the 120 world leaders were given four minutes to address the summit.
Taoiseach Enda Kenny told the summit that Ireland would play its role as part of the EU contribution to the global effort.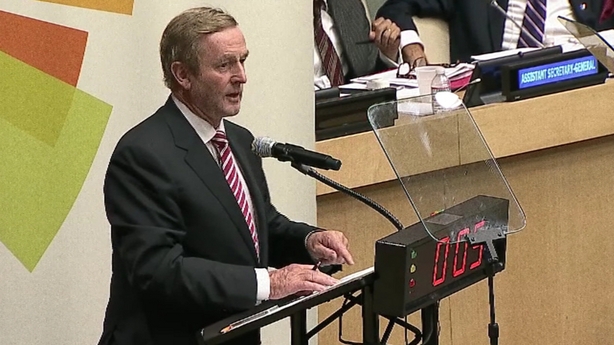 He said: "The EU is committed to bringing forward its contribution to a global agreement early in 2015 - I urge others to do likewise.
"Leaders must show conviction, clarity, courage and consistency in their actions."
He said Ireland is a world leader in carbon efficient agriculture and food production.
"We will continue our efforts, for example through our Origin Green Programme, to drive carbon efficiency and shape the international approach to sustainable agriculture and food production."
He said: "We are working within the EU to ensure a fair and effective burden-sharing of the EU's overall commitment.
"And we are implementing legislation to underpin our climate change efforts."
US President Barack Obama said a new global agreement on climate change needs to include strong commitments from emerging economies.
He said it needed to move past the rich-poor country divide that has hampered progress in UN negotiations.
A new "global compact" needs to include strong commitments from some of the world's emerging economies, he said, which will increase the amount of greenhouse gases they emit as their economies continue to grow.
"This time we need an agreement that reflects economic realities in the next decade and beyond," Mr Obama said.
Mr Obama said prior to taking the podium, he met China's vice premier Zhang Gaoli and the two agreed the world's two biggest emitters "have a responsibility to lead".
Following Mr Obama's remarks Mr Zhang, representing the world's biggest carbon emitter, promised that China would work to rein in its growing emissions.
Mr Zhang said China would aim to cap emissions or have them peak "as early as possible".