The World Health Organisation has said the deadliest Ebola epidemic ever has now killed 2,811 in west Africa.
It added that the outbreak has been pretty much contained in Senegal and Nigeria.
The UN health agency said a total of 5,864 people had been infected in five west African countries as of 18 September.
The disease has claimed 181 lives since the last death toll of 2,630 was issued on 14 September.
Guinea, where the outbreak began at the start of the year, and neighbouring Liberia and Sierra Leone by far account for most of the cases and continue to see ballooning numbers.
Liberia has been especially hard-hit, with 1,578 deaths from 3,022 cases.
Senegal has not reported any new cases of the deadly virus since it registered its first and only case on 29 August - a Guinean student who has since recovered.
Nigeria, where eight infected people died, has not reported any new cases since 8 September, the WHO pointed out.
The incubation period for Ebola is 21 days, and double that time must pass without any new cases arising before a country can be deemed transmission-free.
The WHO, meanwhile, said that a meeting of its Ebola emergency committee last week had determined that the outbreak remained a "public health emergency of international concern".
The committee had reiterated its opposition to general bans on international travel or trade, although people infected with Ebola or who had had contact with Ebola patients should not be permitted to travel, the WHO said.
Blocking flights to or from affected areas and other travel restrictions only serve to "isolate affected countries, resulting in detrimental economic consequences, and hinder relief and response efforts risking further international spread," it warned.
Ireland is to provide €600,000 as well as emergency supplies to help communities in Sierra Leone and Liberia affected by the Ebola virus.
Minister of State at the Department of Foreign Affairs Seán Sherlock said the aid would include more than 40 tonnes of emergency supplies, such as blankets, tents, mosquito nets and water tanks.
The announcement follows the ending of a three-day curfew in Sierra Leone, aimed at containing the outbreak of Ebola.
Around 150 new cases of the deadly virus in addition to around 70 bodies were discovered during the lockdown, according to officials who say they might repeat the campaign.
Minister Sherlock said: "I am gravely concerned about the continued spread of Ebola and the devastating impact on communities and families in Sierra Leone, Liberia and Guinea. Many of the people affected were already extremely vulnerable.
"The Ebola epidemic in west Africa is the worst ever, with more than 5,000 people now reported to have been infected.
"Health services in these countries are already overwhelmed and the World Health Organisation has warned of an exponential increase in Ebola cases over the coming months."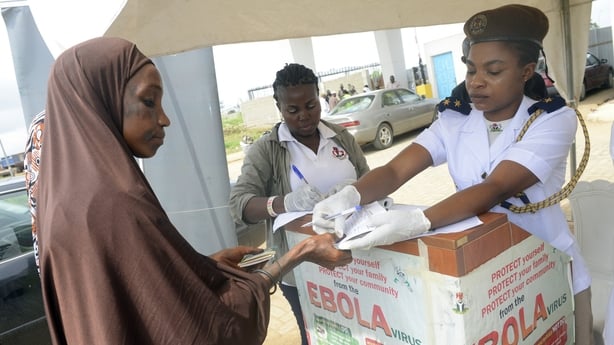 In the most extreme strategy employed by a nation since the epidemic began, Sierra Leone ordered its six million residents to stay indoors as volunteers circulated to educate households, as well as isolate the sick and remove the dead.
Before the lockdown officially ended, residents in some parts of the capital, Freetown, emerged onto the streets to sing and dance.
Police in the western part of the city said they had made a number of arrests in an attempt to enforce the measure in its final hours.
Stephen Gaojia, head of the Emergency Operations Centre (EOC) that leads the national Ebola response, said a few areas had still not been reached by the government's teams.
"Even though the exercise has been a huge success so far, it has not been concluded in some metropolitan cities like Freetown and Kenema," he said.
EU to pledge €140 million in fight against Ebola
European countries are assessing what resources they have to help fight Ebola and are planning a coordinated response to the worst outbreak of the virus in history, Italy's health minister said today.
The European Union has pledged €140 million to reinforce the fight against Ebola in West Africa.
"Only four or five countries in Europe are equipped.
"We will work together to coordinate the aid effort," Beatrice Lorenzin said as EU health ministers met in Milan.
Ms Lorenzin said no definitive decisions about how to proceed would be made today, but Europe would formulate a plan of action to present at a forthcoming meeting in Washington.
There have been no cases of Ebola in Italy, but EU citizens who contracted the disease in West Africa have been repatriated to Britain, France and Spain.