TDs and Senators have returned to Leinster House as the Dáil and Seanad resumed this afternoon following the summer break.
The focus is on preparations for next month's Budget, but the forthcoming banking inquiry is also high on the agenda.
Tánaiste and Minister for Social Protection Joan Burton has told an Oireachtas committee that she would caution against expectations of a "giveaway Budget along the lines of years past".
Ms Burton was addressing the Joint Oireachtas Committee on Education and Social Affairs on pre-Budget and policy issues.
The Tánaiste said there would be an increase in the Household Benefits Package by €100, in part to compensate older people and other vulnerable groups for the introduction of water charges.
She said this is expected to cost €42m and would benefit 410,000 households.
It is understood that Minister for Public Expenditure Brendan Howlin delivered a sharp rebuke to his Cabinet colleagues at today's meeting over what he said were "unrealistic" spending estimates submitted as part of the budgetary process.
In a memo to Cabinet, Mr Howlin told ministers to look again at their estimates to see where savings could be found.
His intervention came as he embarked on a series of one-to-one meetings with his colleagues to finalise next month's Budget.
Earlier, Independent TD Catherine Murphy said she thinks the Government has raised an expectation about the Budget and people are going to want to see money in their pockets as a consequence of that.
Speaking on RTÉ's News at One, Ms Murphy said there was a balancing act in relation to some of the services, adding that health would be a major issue, and there were very serious issues with waiting lists.
On the same programme, Minister for Agriculture Simon Coveney said the Government had always said that when it did the job of closing the deficit, then it would start giving money back.
Meanwhile, a stand-off has developed over efforts by Lucinda Creighton and some members of the Reform Alliance to join the Technical Group of Independent and Socialist TDs in the Dáil.
Ms Creighton said that she wished to join the loose alliance along with TDs Billy Timmins, Peter Mathews and Terence Flanagan.
But Ms Murphy, the chief whip of the Technical Group, expressed annoyance that Ceann Comhairle Sean Barrett had not informed them of the move.
In a statement this afternoon, Mr Barrett insisted he had no discussions with anyone regarding membership of the Technical Group, nor was it his role to do so.
The group is now opposing Ms Creighton and her colleagues joining and has written to Mr Barrett asking him to clarify the situation.
It is understood the group does not want its speaking time diluted by the additional members and is seeking extra time should they join.
By-elections to be held on 10 October
Two by-elections, in Dublin South-West and Roscommon-South Leitrim, are set to be held on 10 October, four days before the Budget.
The writs were moved during the Order of Business this afternoon.
The by-elections will fill the vacancies left by the election of Brian Hayes and Luke 'Ming' Flanagan to the European Parliament.
Meanwhile, Fianna Fáil TD and former ceann comhairle Séamus Kirk has announced that he will not stand for re-election.
Mr Kirk, who was ceann comhairle between 2009 and 2011, has been a TD for Louth since 1982.
Protests and scuffles outside Leinster House
A group protested outside Leinster House against cuts to services for disabled people.
Greystones-based twins Margaret and Ann Kennedy accused the Health Service Executive of giving them second-hand wheelchairs, which they describe as "rubbish".
They delivered letters to all TDs saying they and thousands of other people with disabilities are forced to grovel for appropriate services.
The Kennedy sisters, who have Mitochondrial Disease, said they have been ignored, demeaned and humiliated despite new rare diseases guidelines announced recently by former minister for health James Reilly.
It has emerged that Minister of State with Special Responsibility for Skills, Research and Innovation Damien English has agreed to convene a cross-party group of legislators to hear the case for a national review of wheelchair and special seating provision.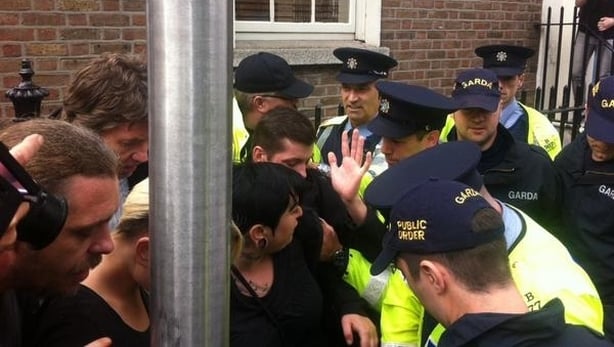 One woman has been detained by gardaí following minor scuffles with a handful of protesters outside Leinster House.
A number of different protests took place at the front and back entrances to the building.
Around 50 anti-wind turbine protesters demonstrated at the Merrion Street side, while anti-fur farming and IBRC mortgage holders demonstrated at the front.
Around 20 protesters are demonstrating outside the Dáil this evening calling for the repeal of the Eighth Amendment.
The protesters include TD Ruth Coppinger.
Gardaí closed off Molesworth Street opposite Leinster House to facilitate the protests during the day.