Foreign ministers from 30 countries from around the world have agreed to help Iraq combat Islamic extremists "by all means necessary".
The agreement in Paris follows US-led efforts to put together an international coalition to defeat Islamic State militants, who have taken over large parts of northern Iraq.
In a joint statement, the ministers, including a number from Arab countries, pledged to give "appropriate military assistance" to Iraq to defeat IS.
US Secretary of State John Kerry said he was "extremely encouraged" by promises of military assistance to tackle the group.
British Foreign Secretary Philip Hammond said the UK would play a "leading role" in coalition efforts against IS.
Mr Hammond also said action against IS in Syria had not been ruled out.
The five UN Security Council permanent members, Britain, France, the US, Russia and China, were joined at the conference by European and Arab states, and representatives of the EU, Arab League and UN.
France has sent jets on a reconnaissance mission to Iraq, a step towards becoming the first ally to join the US-led air campaign there.
Iraq also attended today's meeting, but Syria and Iran were not present.
Mr Hammond said: "In terms of Iran, I think it was always unlikely that Iran would become a fully-fledged member of the coalition, but I think that we should continue to hope that Iran will align itself broadly with the direction that the coalition is going."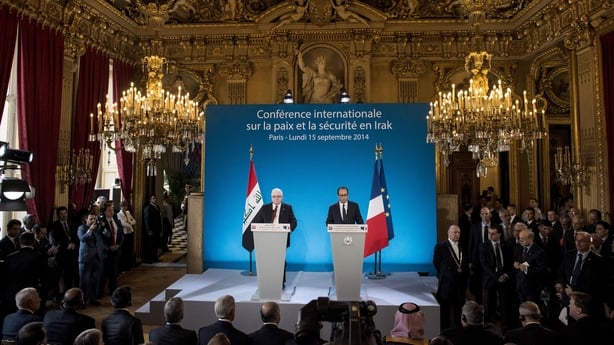 Iran's supreme leader said he had personally rejected an offer from the US for talks to fight IS.
In a rare direct intervention into diplomacy, Ayatollah Ali Khamenei said the US had reached out through the Iranian embassy in Baghdad, requesting a meeting to discuss cooperation against IS.
Mr Khamenei said some Iranian officials had welcomed the contacts, but he had personally vetoed them.
"I saw no point in cooperating with a country whose hands are dirty and intentions murky," the Iranian leader said in quotes carried on state news agency IRNA.
He accused the US of "lying" by saying it had excluded Iran from its coalition, saying it was Iran that had refused to participate.
Mr Kerry said the US was "not cooperating with Iran", but declined to be drawn on whether it had reached out through the embassy in Baghdad for talks.
"I am not going to get into a back and forth," he said. "I don't think that's constructive, frankly."
Islamic State fighters swept across northern Iraq in June, seizing cities, slaughtering prisoners, proclaiming a caliphate to rule over all Muslims and ordering non-Sunnis to convert or die.
IS has recently raised the stakes by beheading two US journalists and a British aid worker.
The militants have also threatened to kill aid worker Alan Henning if British Prime Minister David Cameron continued to support the fight against them.
Britain has ruled out a mission by the SAS to rescue Mr Henning, saying it did not know where he was being held.