A highly anticipated preliminary report into what brought down Malaysia Airlines flight MH17 over eastern Ukraine has found that it was pierced by numerous "high-speed objects".
A report released by the Dutch Safety Board said there was "no evidence of technical or human error".
"Flight MH17... operated by Malaysia Airlines broke up in the air probably as the result of structural damage caused by a large number of high-energy objects that penetrated the aircraft from outside," said the DSB in the preliminary report.
The Malaysia Airlines Boeing 777 exploded over eastern Ukraine en route from Amsterdam to Kuala Lumpur on 17 July, killing all on board, including 193 Dutch citizens.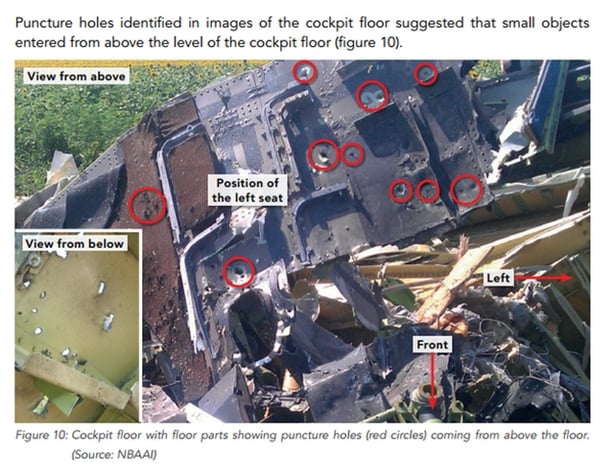 The DSB said the plane was airworthy when it took off from Amsterdam and was staffed by a "qualified and experienced crew".
It said the fact that it was hit by high-speed objects "explains the abrupt end to data registration on the recorders, the simultaneous loss of contact with air traffic control and the aircraft's disappearance from radar".
The West has accused Russian-backed separatists of shooting down the plane with a Russian-supplied surface-to-air missile. Russia has blamed Ukrainian forces.
While Pro-Russian rebels said they do not have the military equipment capable of bringing down a passenger aircraft.
Dutch investigators have been unable to visit the site in the war-torn Donetsk region due to the fighting.
They have relied on information from Ukrainian crash specialists for information from the scene.
The black boxes were sent to Farnborough in Britain to be examined by the Air Accidents Investigation Branch.
The DSB said the black boxes showed no evidence of manipulation.
The cockpit voice recorder, which provided a record of pilots' conversations, "gave no indication of any malfunction or emergency" before the crash.
The flight data recorder (FDR) showed no evidence of technical malfunctions or warnings. Both recordings ended at three seconds past 1.20pm local time.
At the time of the crash, the aircraft was flying at a height of 33,000ft in the eastern part of Ukraine.
It was flying on a constant heading, speed and altitude when the FDR ended, the DSB report said.
Shortly after the crash, forensic experts travelled to the site to collect body parts, but that search has also been suspended due to heavy fighting in the area.
So far, 193 victims of flight MH17 have been identified.
Ukraine yesterday accused pro-Russian rebels of waging fresh attacks in the east putting a fragile truce in peril.
It is hoped that air crash investigators will be able to return to the site if the ceasefire holds, but analysts said it was too early yet to make an assessment on the team's security.
The Ukrainian Defence Ministry has said four servicemen have been killed and 29 injured since the start of the ceasefire on Friday.