Pro-Russian separatists have so far handed over about 1,200 prisoners-of-war to the Ukrainian side under the terms of a ceasefire agreement, President Petro Poroshenko said today.
The two sides are meant to exchange all their POWs under the terms of the ceasefire accord, clinched on Friday.
Mr Poroshenko was speaking during a visit to Mariupol, a port city in the east of Ukraine, which the rebels advanced towards last week before the ceasefire took effect.
He tweeted on his arrival that the insurgents began shelling checkpoints outside Mariupol, after learning that he intended to visit the city for the first time since the conflict erupted.
He said: "They thought they would frighten me. But no-one is afraid of them!"
Speaking in English to reporters the Ukrainian president said "it is impossible to win the conflict just by military means..."
Mr Poroshenko said the quickest way to achieve "stability and peace" in Ukraine was to "withdraw foreign troops and close the border..."
"Within a week we (will) find a compromise... I think the peace initiative is bringing us to this result..." he said.
EU reviews sanctions against Russia
The European Union today agreed to a new wave of sanctions against Russia, but said their entry into force would take a few days, giving time to recent peace moves by Russia.
"Depending on the situation on the ground, the EU stands ready to review the agreed sanctions in whole or in part," said Herman Van Rompuy, President of the European Council.
Mr Van Rompuy was speaking after a last-minute meeting of EU envoys in Brussels to decide whether the sanctions - agreed in principle on Friday - should be first implemented and then suspended if the ceasefire holds or whether they should not be implemented at all at this stage.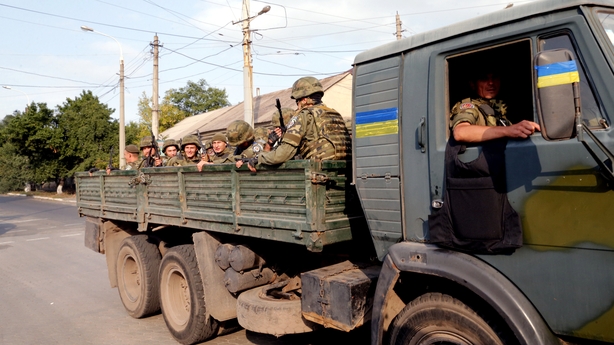 Meanwhile, Russia has signalled it might ban Western airlines from flying over its territory in response to new European Union sanctions over the Ukraine crisis.
Blaming the West for damaging the Russian economy by triggering "stupid" sanctions, Prime Minister Dmitry Medvedev said Moscow would press on with measures to reduce reliance on imports, starting with increasing output of domestic aircraft.
Mr Medvedev suggested Russia should have hit back harder over the action by the United States and European Union to punish Moscow for its role in Ukraine.
He said it had been too patient in the worst confrontation with the West since the Cold War.
"If there are sanctions related to the energy sector, or further restrictions on Russia's financial sector, we will have to respond asymmetrically," he told Russian daily Vedomosti.
He added the airlines of "friendly countries" were allowed to fly over Russia.
"If Western carriers have to bypass our airspace, this could drive many struggling airlines into bankruptcy. This is not the way to go. We just hope our partners realise this at some point," he said in the interview published today.
After suggesting it would hold off imposing new sanctions to give Moscow time to show it was resolving the Ukraine conflict, the European Union said today it would press ahead with implementing the new measures later in the day.
An EU diplomat said Russia's top oil producers and pipeline operators Rosneft, Transneft and Gazprom Neft were on its list of state-owned firms that would not be allowed to raise capital or borrow on European markets.
A shaky ceasefire agreed on Friday in Ukraine has done little to convince some Western countries that Russia is committed to resolving the conflict in the country's east, which has killed more than 3,000 people.