European officials proposed new sanctions today to starve Russia's companies of capital and technology as punishment for Moscow's intervention in Ukraine.
Western countries accuse Moscow of sending armoured columns of troops into Ukraine, where the momentum in a five-month war shifted last week decisively in favour of pro-Russian rebels,who are now advancing on a major port.
Russia denies its troops are involved in fighting on the ground, in the face of what Western countries and Ukraine say is overwhelming evidence.
According to the United Nations, the war, in which pro-Russian separatists are fighting to throw off rule from Kiev, has killed more than 2,600 people and driven nearly a million from their homes in east Ukraine.
European leaders asked the EU on Saturday to draw up new sanctions to punish Moscow, which are expected to be unveiled tomorrow and adopted by Friday.
The United States is also planning new sanctions but is keen to maintain Western unity by not getting in front of its European allies.
Outlining the new proposals today, European diplomats described a number of mainly technical measures that would have the combined effect of making it harder for companies in Russia's state-dominated economy to obtain overseas financing.
US and EU sanctions steadily tightened since March have already made it hard for many Russian firms to borrow, scaring investors and contributing to billions of dollars in capital flight that has wounded the Russian economy.
Moscow has responded by banning most imports of Western food.
"We need to respond in the strongest possible way," said the EU's newly named incoming foreign policy chief, Italian foreign minister, Federica Mogherini.
"Things on the ground are getting more and more dramatic. We speak of an aggression, and I think sanctions are part of a political strategy."
A summit of European leaders has been dominated by events in Ukraine.
According to Italy's La Repubblica newspaper, outgoing European Commission president Jose Manuel Barroso said Russian President Vladimir Putin had told him he could take Ukraine's capital within two weeks.
The Kremlin said any such remarks were taken out of context and criticised Mr Barroso for the leak.
Meanwhile, more than one million people have been displaced by the conflict, including 814,000 Ukrainians now in Russia with various forms of status, the United Nations refugee agency said.
Numbers displaced inside Ukraine by the fighting have nearly doubled in the past three weeks to at least 260,000 and more are fleeing.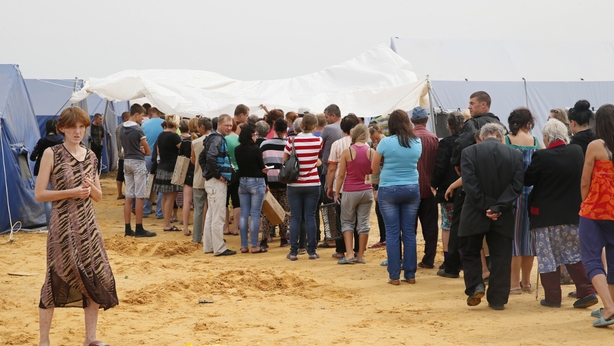 "It's safe to say you have over a million people now displaced as a result of the conflict, internally and externally together," Vincent Cochetel, director of the UNHCR's bureau for Europe, later told reporters.
"I mean 260,000 in Ukraine, it's a low estimate, 814,000 in Russia, then you add the rest ...Belarus, Moldova, European Union."