Russian President Vladimir Putin has called for immediate talks on the "statehood" of southern and eastern Ukraine, although his spokesman said this did not mean Russia endorsed calls for independence for separatist-held territory.
Mr Putin was quoted as saying that, what he called, the lawful interests of his people must be protected.
Mr Putin's use of the word "statehood" was interpreted as implying backing for the rebel demand of independence, something Russia has so far stopped short of publicly endorsing.

However, Mr Putin's spokesman Dmitry Peskov said there was no new endorsement for rebel independence. Asked if "New Russia", a term pro-Russian rebels use for their territory, should still be part of Ukraine, Mr Peskov said: "Of course."

"Only Ukraine can reach an agreement with New Russia, takinginto account the interests of New Russia, and this is the onlyway to reach a political settlement."
His remarks, two days after a public appearance in which he compared the Ukrainian government with Nazis and warned the west not to "mess with us", came as Europe and the US prepared possible further sanctions to halt what they say is direct Russian military involvement in Ukraine.
Yesterday, the EU pledged to support Ukraine's sovereignty and draw up new economic sanctions on Russia which has denied that its military forces are operating inside Ukraine.
Last night, Taoiseach Enda Kenny said that a new list of sanctions against Russia would be ready within seven days if Moscow did not withdraw troops and heavy weapons from eastern Ukraine.
Mr Kenny was speaking following a special summit of EU leaders in Brussels.
"Within seven days a new list of further options - serious options - would be presented for consideration," he told reporters.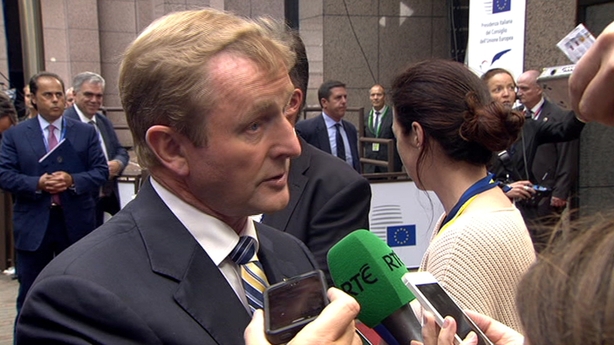 The Taoiseach said that the mood of the meeting was one of solidarity with Ukraine, as well as unity among EU member states that Europe should not "renege upon" Ukraine, or "turn its back on the Ukrainian people" who wish to be associated very closely with the European Union.
Mr Kenny said that individuals and institutions which had supported pro-Russian separatists in Ukraine would be listed as part of broader sanctions effort.
The European Commission will now propose ways of "scaling up" existing sanctions against Russian and pro-Russian individuals, as well as companies within Russia's financial, arms and energy sectors.
Once the commission makes its proposal, member states can then formally impose the measures against Russia.
The crisis in Ukraine is expected to dominate next week's NATO summit in Wales.
The Taoiseach also welcomed the appointments of Polish Prime Minister Donald Tusk as the new President of the European Council, to replace Herman Van Rompuy in December, and Italian Foreign Minister Federica Mogherini as the new EU High Representative for Foreign Policy.
Mr Kenny said that EU leaders discussed ways to alleviate Europe's high levels of unemployment, in particular youth unemployment.
He said that European Commission President-elect Jean-Claude Juncker would present a €300 billion investment programme in November.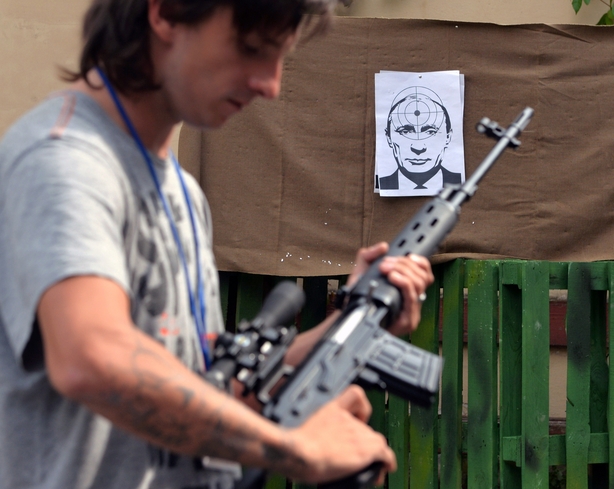 First naval attack of conflict
In the first naval attack of the four-month conflict, separatists fired on a Ukrainian vessel in the Azov Sea today. A Ukrainian military spokesman said a rescue operation was under way after the artillery attack from the shore.
Ukrainian troops and local residents are reinforcing the port of Mariupo, the next big city in the path of pro-Russian fighters who pushed back government forces along the Azov Sea this past week in an offensive on a new front.
Ukraine and Russia also swapped soldiers who had entered each other's territory near the battlefield, where Ukriane says Russian forces have come to the aid of pro-Russian insurgents, tipping the military balance in the rebels' favour.
The swap of soldiers overnight at the frontier was a rare gesture to ease tension, but Ukraine and Russia have given starkly opposing accounts of how their troops came to be on each other's territory.
A Russian commander said an unspecified number of Russian paratroops were swapped for 63 Ukrainian soldiers. Ukraine said there were nine Russian soldiers.
Ukraine and its European and US allies say the new rebel offensive has been backed by more than 1,000 Russian troops openly supporting the insurgents. The rebels themselves say thousands of Russian troops have fought on their behalf while "on leave".
Reuters journalists on the Russian side of the border have seen Russian troops showing signs of having returned from battle, with their insignia removed or rubbed out.
Despite the evidence, Moscow denies its troops are fighting in Ukraine and says a small party of soldiers crossed the border by accident.
Russian Major-General Alexei Ragozin said the paratroops were handed back after "very difficult" negotiations.
"I consider it unacceptable that our servicemen were detained by the Ukrainian side for so many days. Our lads are upset about everything that happened. They will all receive the necessary psychological and other kinds of help. The lads will all be OK."
Mr Ragozin said Russia, by contrast, had promptly returned hundreds of Ukrainian soldiers who at various times have crossed the border when squeezed by rebel forces. He said the latest group of 63 had entered Russia on Wednesday.
Ukraine has in the past said some of its soldiers crossed into Russia to escape from fighting on the Ukrainian side of the frontier, behaviour that contrasts to that of the Russians who it says crossed the border to wage war in Ukraine.
Ukraine's military spokesman has mocked the idea that the Russians had" got lost like Little Red Riding Hood in the forest".