UN Secretary-General Ban Ki-moon voiced hope tonight that a ceasefire in Gaza will set the stage for talks on a final Israeli-Palestinian peace deal.
Israel and the Palestinians agreed on a long-term ceasefire from 5pm Irish time to end 50 days of bloodshed that left more than 2,100 Palestinians dead in one of the worst conflicts between the two sides in a decade.
"The secretary-general remains hopeful that the extended ceasefire will act as a prelude to a political process as the only way of achieving durable peace," UN spokesman Stephane Dujarric said.
Mr Ban warned that "a brighter future for Gaza and for Israel depends on a sustainable ceasefire" and that "any violations of the ceasefire would be utterly irresponsible".
The UN chief also urged the sides to address the root causes of the crisis that have led to three wars in six years in Gaza.
The United Nations stands ready to support efforts to address the "structural factors of conflict" between Israel and Gaza, the UN spokesman said.
Mr Ban cited the return of the Palestinian Authority to Gaza, the lifting of the blockade and addressing Israel's security concerns as key to avoiding a relapse into war.
Reiterating that a two-state solution was the only viable option for peace, Mr Ban called on the sides to return to negotiations on a final peace deal that would end the Israeli occupation of the Palestinian territories.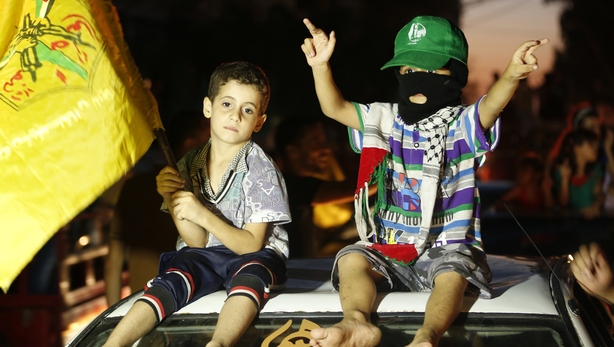 The ceasefire deal brokered by Egypt calls for opening up border crossings, lifting fishing restrictions, a future prisoner swap, the reopening of the Gaza airport and lifting the blockade, along with disarming militants.
The agreement, however, did not provide details on many of the points and a fresh round of talks to be held in Cairo in the coming weeks is set to allow for more substantive discussion.
UN Security Council diplomats have put forward the idea of a monitoring mechanism to impartially report on ceasefire violations and verify the flow of goods into Gaza.
Key powers at the council are concerned that without proper verification of the ceasefire provisions, war could easily be reignited in Gaza.
A document floated by Britain, France and Germany last week called on Mr Ban to come up with proposals for such a mechanism and for leading a massive reconstruction effort in Gaza.