The chief of the international police organisation Interpol has condemned the beheading of US journalist James Foley and called for a global response to the threat posed by Islamic extremists.
"The barbaric murder of James Foley by the Islamic State group underlines the depths of its depravity as it wages its campaign of terror across Syria and Iraq," Interpol Secretary General Ronald Noble said in a statement.
Mr Noble called on the world to remember the other innocent people held by "bloodthirsty terrorists who know neither compassion nor mercy."
Given that the executioner appeared to be British, Mr Noble urged a "multilateral response against the terror threat posed by radicalised transnational fighters travelling to conflict zones in the Middle East."
Islamic State jihadists beheaded Mr Foley, 40, and posted the video of the murder online, sparking global outrage.
US forces attempted to rescue Mr Foley and other American hostages during a secret mission into Syria and exchanged gunfire with Islamic State militants only to discover the captives were not there, officials said yesterday.
The mission, authorised by President Barack Obama based on US intelligence, took place earlier this summer.
Officials disclosed the mission a day after a video surfaced showing a militant beheading Mr Foley.
Officials would not say exactly when the operation took place but said it was not in the past couple of weeks.
US special forces and other military personnel, backed up by helicopters and planes, dropped into the target zone in Syria and engaged in a firefight with Islamic State militants.
The incident, in which a number of militants were killed, appeared to be the first direct ground engagement between the United States and Islamic State militants, seen by President Obama as a growing threat in the Middle East.

Lisa Monaco, Mr Obama's top counter terrorism aide, said in a statement that President Obama authorised the mission because it was his national security team's assessment that the hostages were in danger with each passing day.
The National Security Council said later on Wednesday it had never intended to disclose the operation.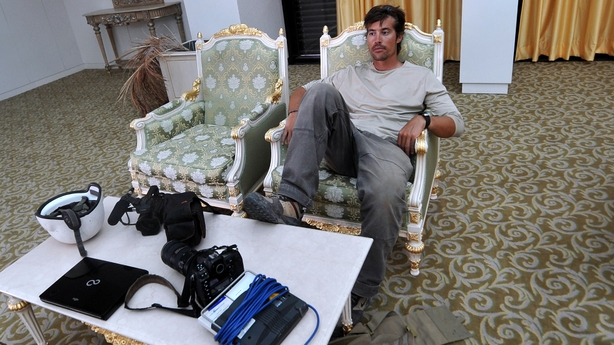 Among the hostages sought in the mission was Steven Sotloff, the American journalist who was threatened with beheading in the same video that showed the grisly execution of Mr Foley. Several other captives were also sought, a senior administration official said.
The families of the hostages were informed about the operation, "but only when it was operationally safe to do so," a senior administration official said.
Pentagon spokesman John Kirby said the mission was focused on a "particular captor network" within the Islamic State militant group.
He did not provide specifics.
An international manhunt is under way for the British jihadist believed to have perpetrated the beheading of Mr Foley.
Police and intelligence services are sifting through the gruesome footage for clues amid suggestions that the Islamic State extremist - referred to in the video as 'John' - is from London.
A former hostage, who was held for a year in the Syrian town of Raqqa, has told the Guardian the killer was the ringleader of a trio of UK-born extremists the captives nicknamed "The Beatles" because of their nationality.
British Prime minister David Cameron and President Obama condemned the murder as "hateful" and "barbaric", insisting it would not force them to back away from tackling IS in Iraq and Syria.
Mr Cameron, who cut short his holiday to return to Downing Street after the video surfaced, said it seemed "increasingly likely" that the killer was a UK citizen.
Hundreds of Britons are believed to be fighting on the front line in Syria and Iraq, and there are fears some could return to carry out terror attacks in this country.
"Let's be clear what this act is - it is an act of murder, and murder without any justification," Mr Cameron told reporters in Number 10.
"We have not identified the individual responsible, but from what we have seen it looks increasingly likely that it is a British citizen.
"This is deeply shocking. But we know that far too many British citizens have travelled to Iraq and travelled to Syria to take part in extremism and violence. And what we must do is redouble all our efforts to stop people from going.
"To take away the passports of those contemplating travel, arrest and prosecute those who take part in this extremism and violence. To take extremist material off the internet and do everything we can to keep our people safe. And that is what this Government will do."
Mr Obama said "no just God" could condone the killing of Mr Foley, who was seized in Syria in 2012, and IS would "fail" because they only wanted to destroy.
"One thing we can all agree on is that (IS) has no place in the 21st century," the President said.
"We will continue to confront this hateful terrorism and replace it with a sense of hope and stability.
Mr Foley's family also paid tribute to his bravery.
Speaking alongside wife Diane at their home in Rochester, New Hampshire, John Foley said: "It's difficult to find solace at this point in time, but Jim is free. We know he's in God's hands and ... we know he's in heaven."
The murdered journalist's younger brother Michael criticised the US government, saying he thought it could have done more to save him.
One of the agencies Mr Foley worked for, GlobalPost, has said IS threatened to execute him a week ago and the US authorities were informed.
The film shows Mr Foley kneeling in a desert-like environment at an unknown location as an IS fighter stands by his side dressed in black and with his face covered.

The footage has been authenticated by the US and UK, but Scotland Yard has urged people to avoid spreading it through Twitter and Facebook - warning that to do so could be a criminal offence.
The US is thought to be considering an additional deployment of troops to Iraq to help repel the IS offensive that has secured swathes of the country.
But Mr Cameron, who is understood to have watched the video himself earlier today, stressed there would be no "knee jerk" escalation of British military involvement - warning that the West faced a "generational struggle" against Islamist extremism.