Albert Reynolds, who has died at the age of 81, served as Taoiseach for just under three years, one of the shortest ever terms, but made an enduring contribution to Ireland with his peace initiative that helped to end 25 years of violence on this island.
He is survived by his wife Kathleen, two sons and five daughters.
Reynolds was a Fianna Fáil stalwart, leading the party in two coalition governments.
For him, his most important political contribution was his work on the peace process.
Born in Rooskey in Co Roscommon, before entering politics Reynolds was involved in the dance hall and pet food businesses.
He was elected a TD for Longford Westmeath in 1977 at the age of 45; an election made famous by the party's manifesto, which was full of sweeteners.
Two years later, Reynolds was a key member of the backbench group which helped topple then Taoiseach Jack Lynch.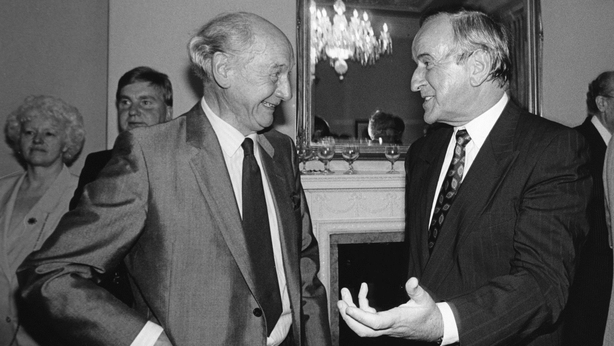 He was rewarded by Charlie Haughey, who appointed him minister for posts and telegraphs.
In the 1980s he became minister for finance, but his intense dislike for being in coalition with the PDs added to cooling in his relations with Haughey, who portrayed Reynolds as being part of the "Country and Western" wing of the party.  
It was an image seemingly not dismissed by him.
The economy showed more signs of moving out of recession during his time in finance, but he was dramatically sacked from cabinet after supporting an abortive attempt to remove Haughey in late 1991.
Three months later Reynolds finally got the top job when Haughey was ousted.
Immediately he caused a sensation by sacking eight of Haughey's ministers.
The very next day he was confronted with the X case crisis - where a 14-year-old girl was refused permission to travel abroad for an abortion.
It was an issue that dominated much of his first period in office.
He never liked being in coalition with the PDs, "a temporary little arrangement", he called it.
At the tribunal of inquiry into the beef industry he and Des O'Malley were deeply critical of each other.
It was clear relations between Reynolds and the PDs were at breaking point
 A general election was called after Reynolds had served only nine months as Taoiseach. 
Fianna Fáil went on to lose nine seats and was forced into partnership with the Labour party.
Ireland secured a multibillion pound deal in EU funds, and there were hopes the coalition would last the full course.
But there were rows over passports for sale, a tax amnesty and unemployment, which had reached 300,000.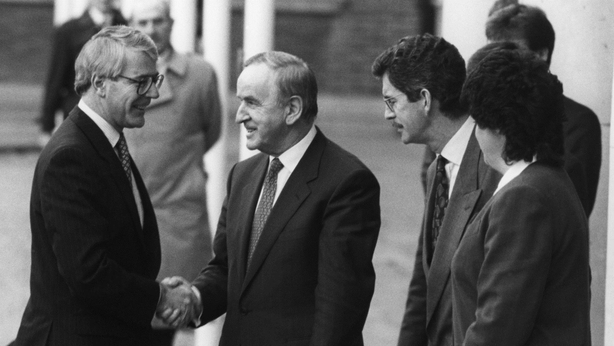 Reynolds did though strike up a strong relationship with then British prime minister John Major.
His determination and deal cutting skills led to the Downing Street Declaration in 1993.
The following summer, the IRA announced a ceasefire.
One writer said it was his readiness to take a risk, cut corners, back a hunch and drive a hard deal that kept the entire peace process on course.
Despite the success, relations between Reynolds and Tánaiste Dick Spring were seriously deteriorating.
There was a huge flare up over the publication of the beef tribunal report, a bitter disagreement over the appointment of a High Court President and a related row over the Attorney General's handling of the Brendan Smyth case. 
"We've come for a head, Harry's or yours - it doesn't look like we're getting Harry's." - Ruairi Quinn to Albert Reynolds (1994)

— IrishPoliticalQuotes (@IrishPolQuotes) August 21, 2014
After an extraordinary sequence of events, Fianna Fáll was forced out, with Labour remaining in power with new partners without an election.
After politics, Reynolds returned to business life, but was again in the headlines when he controversially sued the Sunday Times for libel and was awarded only a penny.  
However, on appeal he reached a settlement with the newspaper.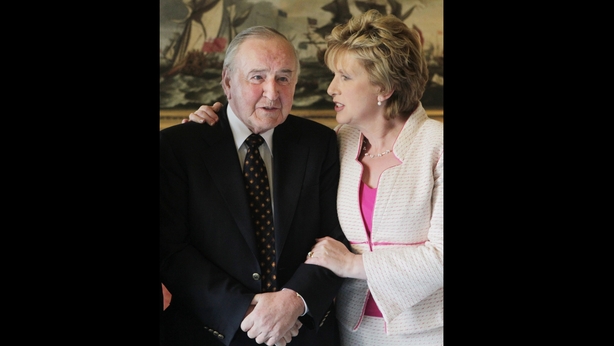 There were several disappointments ahead; he was encouraged to seek the Fianna Fáil nomination for the Presidency but instead the party went with Northern Ireland-based lawyer Mary McAleese.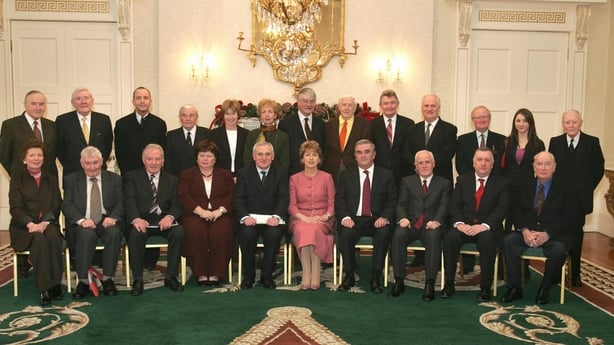 Pictured: The Irish Council state meeting group 21 December 2004 -  back row Fr L to R, Albert Reynolds, Enda Marren, Professor Denis Moloney, T.A.Finlay, Mary Davis , Anastasia Crickley, Senator Martin Mansergh, Dr Garrett Fitzgerald, Ronan C. Keane , John Bruton, Colonel Harvey Bicker, Daraine Mulvihill and Liam Cosgrave. front row Mary Robinson, Rory Kiely (Cathaoirleach) Rory O'Hanlon (Ceann Comhairle) Mary Harney (Tanaiste) , Taoiseach Bertie Ahern, President Mary McAleese, Justice chief Justice Murray, President of High Court Justice Finnegan, Attorny General Rory Brady and Patrick Hillery.
Another setback came in 2006, when the Reynolds pet food factory in Co Longford was destroyed by fire.
In more recent times Reynolds was criticised by the Mahon Tribunal for seeking donations for the party from developer Owen O'Callaghan.
Reynolds, the tribunal found, had abused political power. 
The final breakthroughs of the peace process may not have happened during his tenure, but Reynolds lived long enough to see the fruits of his work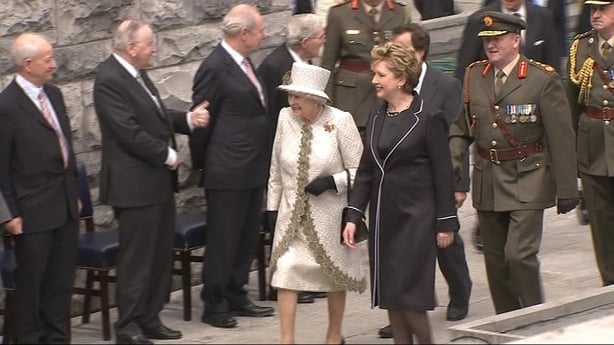 During the recent visit to Ireland by Queen Elizabeth, he showed his satisfaction by giving a thumbs up.
As for his personal life, he said he and his wife Kathleen and his children were blessed. 
When he stepped down as taoiseach nearly two decades ago, he reserved his final words for them.