School leavers in affluent areas of Dublin are more than six times as likely to progress to third-level compared to their peers in some working class areas of the city, according to new data published today by the Higher Education Authority.
A study of progression rates based on Dublin's postal codes has found that just 15% of school leavers in Dublin 17 go on to college, while 99% of those in Dublin 6 do.
The HEA measured the proportion of 17- to 19-year-olds in third-level education in every postal district in the city.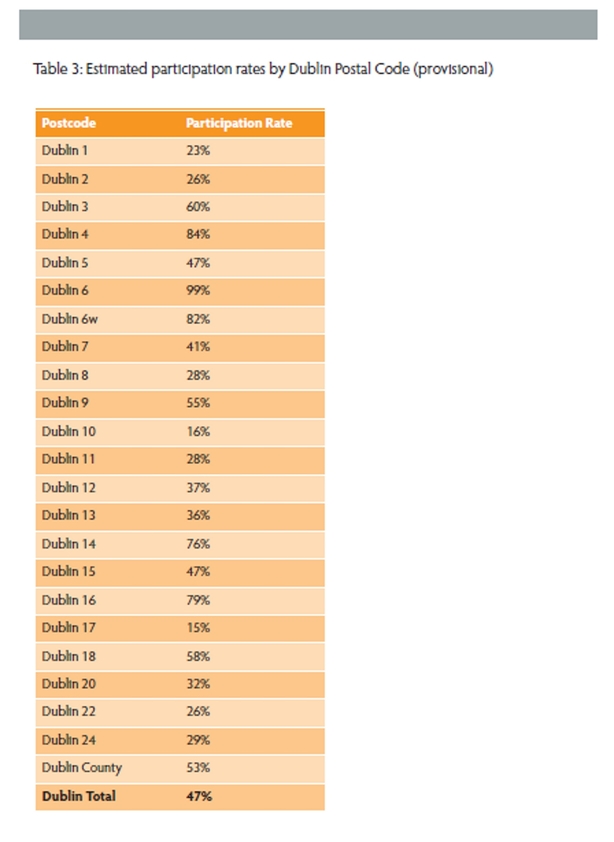 In Dublin 17, which includes areas such as Darndale, just 15% of school leavers go on to college while 16% of those in Ballyfermot, Dublin 10 do.
In Dublin's inner city - postal districts one and two - only around one quarter of youngsters progress to third-level.
But in Dublin 4, which includes Ballsbridge and Donnybrook, 84% do and in Dublin 6 - Ranelagh and Rathmines - the figure is 99%. 
The figures are contained in a consultation paper published today aimed at improving third-level access.
Head of the HEA Tom Boland has said the data calls for radical solutions.
The consultation paper also contains a breakdown of school-leaver attendance at college based on counties.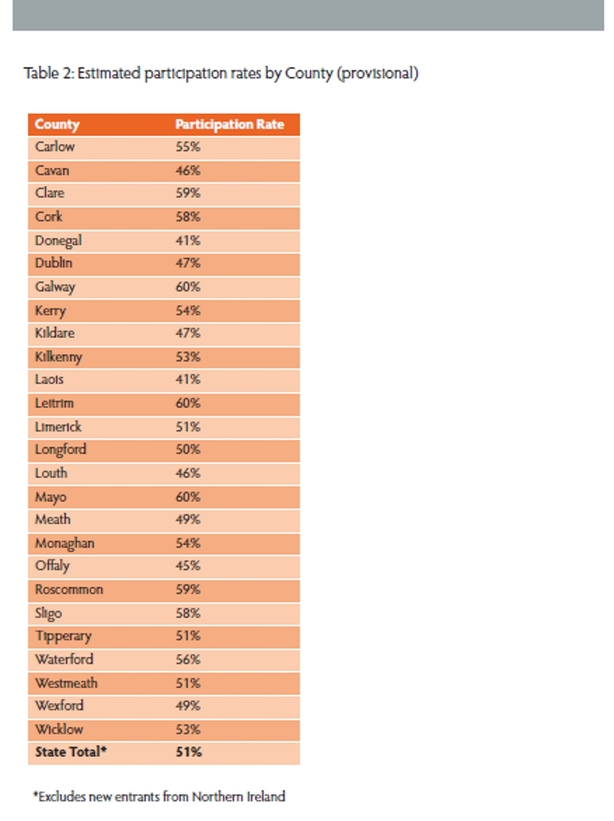 In this category the disparities are not as stark - Leitrim, Galway and Mayo have the highest progression rates, at 60%, while Laois and Donegal have the lowest at 41%.
Speaking on RTÉ's Morning Ireland, Mr Boland said a broader systemic approach is needed to ensure equity of access to third-level education.
He said there are very deep pockets of disadvantage, and while targets have been met in a number of areas, targets have not been met for lower socio-economic groups.
He said participation in higher education by young people in these groups had remained more-or-less static.
Mr Boland said Ireland needs the skills of those young people.
He said the problem was a cultural one, about the ambition for higher education and about an appreciation of the value of higher education.
Mr Boland said where that existed in families there was a very good chance of success, and where that did not exist it needed to be generated.