EU foreign ministers have agreed to back the arming of beleaguered Iraqi Kurd fighters by key member states, German Foreign Minister Frank-Walter Steinmeier said after three hours of talks.
"We have found a common position, the sprit of which says the EU commends the fact that certain countries have responded favourably to the request made by Kurdish Iraqi forces," Mr Steinmeier said.
"It is not clear what equipment will be used and is necessary," the minister added.
A diplomat said the agreement was "strong and sends the desired political message". 
France and Britain have already moved ahead with plans to provide weapons to beleaguered Iraqi forces, but French Foreign Minister Laurent Fabius pushed for the talks to mobilise an EU-wide response to the crisis in Iraq.
Defence matters are strictly the purview of member states, and the EU approval for member states to send arms to a conflict zone is rare.
But alarming images of Iraqi minorities, including Christians, under siege by jihadists have struck chords in European capitals.
Ahead of Friday's meeting, support for a strong message backing Kurdish Iraqis was growing, even from member states historically less inclined to support military adventures abroad, such as Germany.
"Europeans must not limit themselves to praising the courageous fight of the Kurdish security forces. We also need to do something first of all to meet basic needs," Steinmeier said before the meeting.
Some countries had resisted the idea of sending weapons to an unstable war zone where fighters and the weapons they carry can quickly change sides.
Austrian Foreign Minister Sebastian Kurz, warning that arms  can "fall into the wrong hands", urged "caution" before the talks.
The unscheduled gathering of ministers came after days of forceful demands by France, whose Foreign Minister Laurent Fabius criticised EU colleagues for remaining on holiday while besieged civilians were being killed in Iraq.
"When there are people dying ... you have to come back from your holidays," Mr Fabius said earlier this week, after writing a letter to EU foreign affairs chief Catherine Ashton demanding an extraordinary meeting of ministers.
Italy, which currently holds the EU's rotating leadership and whose foreign minister Federica Mogherini is on the shortlist to replace Ms Ashton this year, also called for talks.
"We're not talking about military intervention but providing support, even of a military sort, to the Kurdish government," she said.
France, Britain and the Czech Republic have already announced they will ship weapons to Iraqi Kurds struggling to push back Islamic State fighters.
But alarming images of Iraqi minorities, including Christians, under siege by jihadists have struck chords in European capitals and France and Italy, are leading the push for an EU-wide pledge for arms.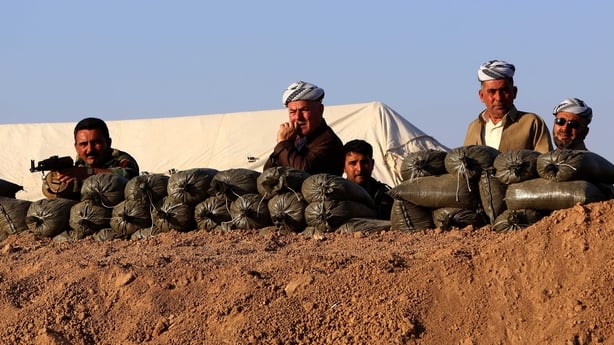 EU governments are also alarmed by the Islamic State's ability to attract fighters from Europe who then return home to the West battle-hardened from jihad.
Timeline of the Iraqi conflict
Ahead of the meeting, support for a strong message on arming Iraq was growing, even from member states historically less inclined to back military adventure abroad.
Usually cautious Germany this week pledged to work "full-speed" on the supply of "non-lethal" equipment such as armoured vehicles, helmets and flak vests to Iraq.
Sweden, which is usually reluctant to participate in military missions, seemed open to a more rigorous response as well.
"Seems as if rescue mission planned for Mount Sinjar in Iraq is no longer considered necessary," said Foreign Minister Carl Bildt in a tweet, in reference to the isolated hills where tens of thousands of ethnic Yazidis were believed to be stranded.
"But general Islamic State threat certainly still there," he added.
With about 20 of the EU's 28 foreign ministers expected to be present, Mr Fabius tweeted yesterday that the ministerial meeting was taking place "at my initiative" in a thinly veiled dig at Ms Ashton's office.
A senior European official, speaking in the run-up to the talks, deplored the "distorted" view of a shutdown EU in August.
This was "at best unfair", he said. The European Union "is not on holiday".
Earlier this week, the European Commission announced it would boost humanitarian aid to Iraq to €17m, and approved special emergency measures to meet the crisis.
But Humanitarian Affairs Commissioner Kristalina Georgieva, also a frontrunner to replace Ms Ashton, said the real challenge in helping civilians was access, not funding.
Also on the agenda will be the crises in Ukraine and Gaza and a request by Spain to address the Ebola outbreak in west Africa.