Israeli aircraft have carried out air strikes across Gaza in response to Palestinian rocket fire and shortly after a new ceasefire brokered by Egypt came into effect, officials said.
The Palestinians said the new ceasefire which began at midnight local time (10pm Irish time) would last for five days.
An official at the Palestinian interior ministry reported four air strikes over open ground about 30 minutes into the extension of a new truce.
Israel said its military was targeting "terror sites across the Gaza Strip" in response to rocket fire.
The military "remains alert and maintains a high level of preparedness with both defensive capabilities, and striking capabilities in order to address a renewed aggression and will immediately respond to any threat to Israel," it said.
A spokeswoman for the Israeli army said that Palestinian militants launched six rockets towards Israel tonight, four of which hit open areas and one of which was intercepted.
No rocket attacks were immediately reported after midnight.
Earlier, an Egyptian official announced that both Israel and the Palestinians had agreed to extend the ceasefire.
The joint Palestinian delegation which has been meeting in Cairo is due to leave tomorrow to consult with their leaderships, he said.
A previous 72-hour truce crumbled last Friday with pre-dawn rocket attacks on Israel and with Hamas refusing to extend the ceasefire arrangement.
Israel regards Hamas, which has advocated its destruction, as a terrorist organisation that cannot be a direct negotiating partner.
Yesterday, Moussa Abu Marzouk, Hamas's leader in Cairo, described the negotiations as "difficult".
An Israeli official, who declined to be identified, said no progress had been made.
Hamas, which dominates Gaza, and its allies seek a lifting of Israeli and Egyptian blockades of the coastal enclave.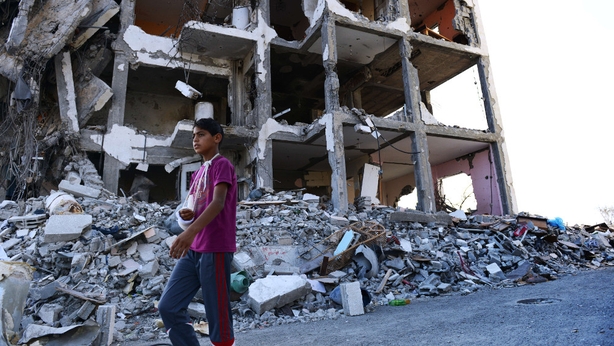 Israel and Egypt harbour deep security concerns about the Islamist group, complicating any deal on easing border restrictions.
Hamas also wants the opening of a seaport for Gaza, a project Israel says should be dealt with only in any future talks on a permanent peace agreement with the Palestinians.
Israel has resisted removing the economically stifling blockade on Gaza and suspects Hamas will restock with weapons from abroad if access to the coastal territory is relaxed.
The United Nations said 425,000 of 1.8 million population of Gaza have been displaced.
Israel pulled ground forces out of Gaza last week after it said the army had completed its main mission of destroying more than 30 tunnels dug by militants for cross-border ambushes.
Elsewhere, an Italian cameraman working for international news agency Associated Press was among at least five people killed in northern Gaza today as bomb disposal experts were dismantling unexploded munitions.
Gaza's interior ministry said all five had been killed in a blast that occurred as explosives experts were trying to dismantle an unexploded Israeli shell in Beit Lahiya.
Another six people were seriously wounded, medics said.