Authorities in Nigeria's largest city Lagos have appealed for volunteers to help fight an outbreak of the deadly Ebola virus after admitting they lacked medical personnel.
"We have a shortage of personnel. I won't lie about that. And that is why we are asking for volunteers," Lagos state health commissioner, Jide Idris, said on a live television programme.
In its fight against the spread of the virus, Mr Idris said that the state government in Lagos was offering incentives to medical volunteers, including life insurance.
Elsewhere, Canadian health officials said a patient who returned from Nigeria has been put in isolation in a hospital in a suburb of Toronto.
The patient showed symptoms of fever and flu, possible signs of the deadly Ebola virus.
961 people have died following the outbreak and nearly 1,800 people have been infected since the beginning of the year.
The unnamed male patient was being treated at the William Osler Health System's Brampton Civic Hospital.
Earlier, Nigeria confirmed two new cases of Ebola, bringing the total number of infections in the country to nine, including two deaths.
"We have an additional two confirmed cases. So the total now, we have nine confirmed cases (including two deaths). The same two we told you about: the index case and the health worker," Health Minister Onyebuchi Chukwu said.
It comes after President Goodluck Jonathan declared a national emergency over the deadly virus.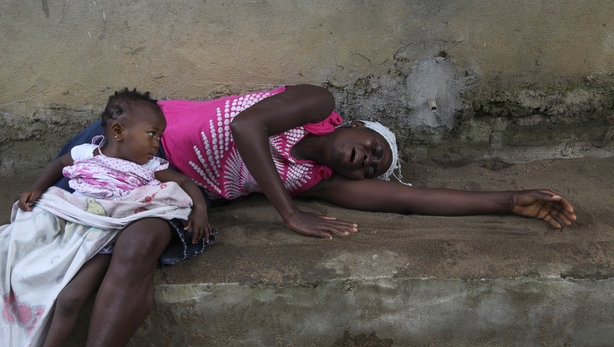 An American-Liberian, who flew into the country from Monrovia, and a Nigerian nurse are the two people who have died of Ebola virus in Lagos in the last two weeks.
The minister said that the government had approved life insurance policy for all those taking care of Ebola virus patients and involved in contact-tracing.
The president earlier called on the population to avoid large gatherings in order to prevent the spread of the virus.
"Religious and political groups, spiritual healing centres, families, associations and other bodies should ... discourage gatherings and activities that may unwittingly promote close contact with infected persons or place others at risk," said a statement issued by the presidency.
President Jonathan also approved the immediate release of 1.9 billion naira (€8.7) to fund measures against the spread of the virus.
Measures to be taken include the setting up of additional isolation centres, screening at borders and contact-tracing.
In addition, the president warned against any movement of corpses to other parts of the country as well as spreading false information about the virus.
World Health Organisation chief Margaret Chan said in Geneva yesterday that the epidemic in west Africa which has killed nearly 1,000 people in Guinea, Liberia, Sierra Leone and Nigeria was the worst of its kind in four decades.
Zambia has said it will restrict entry of travellers from countries affected by the Ebola virus and would ban Zambians from travelling to those countries, in one of the strictest moves yet by a southern African country against the deadly virus.

"All delegates from any of the countries affected by Ebola virus disease are restricted from entering Zambia until further notice," the Health Ministry said in a statement posted on its website on Saturday.

The statement also said that any Zambians arriving from those countries would be "thoroughly screened and quarantined", adding that no further travel by Zambians to such countries would be allowed.
Guinea has also taken steps to prevent the spread of the virus by closing its land borders with Liberia and Sierra Leone.
"In order to better control contact" with people suspected of carrying the Ebola virus, "Guinea has decided to temporarily close its land borders with Liberia and Sierra Leone," government spokesman Albert Damantang Camara said.