The Netherlands is halting the mission to recover victims and debris of the MH17 Malaysia Airlines crash because of fighting between Ukrainian forces and pro-Russian separatists in eastern Ukraine.
Dutch Prime Minister Mark Rutte said the risk posed to the team of 70 Australian, Dutch and Malaysian experts was too great to continue working in the area.
"The security situation in eastern Ukraine and the MH17 crash site has worsened by the day," Mr Rutte told journalists in The Hague.
"That is making it impossible for experts to do their work."
He said it made no sense to continue the operation under the current conditions.
Flight MH17 from Amsterdam to Kuala Lumpur was shot down on 17 July, killing all 298 passengers and crew. 196 Dutch citizens died in the crash.
Most bodies have been recovered, but the team is still trying to find the missing victims and their belongings.
An international crash investigation has yet to conduct on-site inquiries.
Dutch Foreign Minister Frans Timmermans paid tribute to the job done so far by the dedicated people who, he said, had achieved a great deal, according to a Facebook page translation.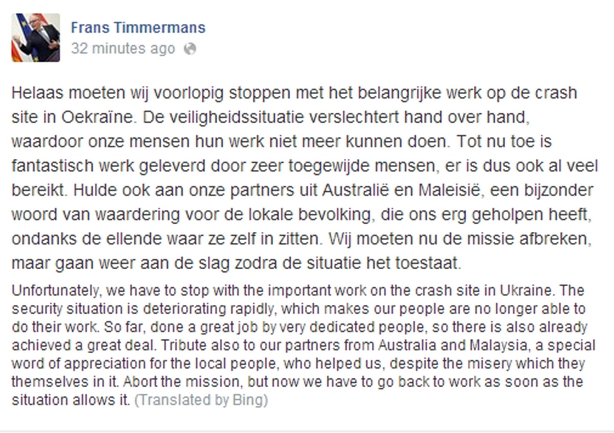 He also paid tribute to officials from Australia and Malaysia as well as local people in Ukraine who helped in the search.
Mr Timmermans said they would resume work at the site as soon as the situation allows it.
Recovery of the bodies and access to the wreckage has been disrupted by the conflict between the separatists and the Ukraine army as fighting has intensified in the area.