A series of explosions caused by a gas leak have killed 25 people and injured 267 in Taiwan's second city of Kaohsiung.
The explosions sent flames shooting 15 storeys into the air, setting fire to entire blocks and reducing small shops to rubble.
Rescue authorities said police and soldiers had been drafted in to help firefighters after the midnight explosion and blaze.
The explosions gutted a district in the port city packed with shops and apartment buildings.
Four firefighters are among the dead. Media reports suggested the death toll was likely to rise sharply.
President Ma Ying-jeou pledged tough measures to prevent any recurrence of the incident.
"We will make further arrangements and inspections to avoid this kind of disaster from occurring again," Mr Ma said.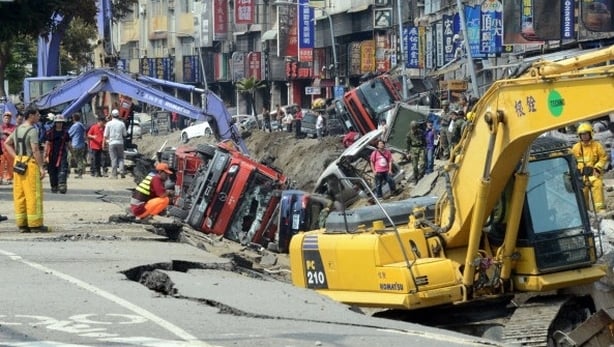 The blast sent flames racing through the district and smoke billowing high into the air.
Flames also shot up from sewers and gutters and water from burst mains gushed through the streets.
Residents said the blast shook buildings as if there had been an earthquake, toppling small shops and overturning cars.
Rescuers formed a chain to pull dozens of injured from a vast crater in the street and picked their way through piles of rubble as they ferried the injured away on stretchers.
Those overcome by smoke were resuscitated in the street.