More than 150 people are feared dead after a major landslide struck a village in western India following heavy monsoon rains.
It happened in remote Malin village in the Pune district of Maharashtra state.
Debris from a hill collapsed onto homes this morning while residents were sleeping.
"We have removed 19 bodies. We expect about 140 more to come considering 44 houses were buried," said H.H. Chavan, deputy director of health in Pune district.
Television footage showed the side of a hill shaved off, with large amounts of mud, muddy water and logs piled below.
Heavy machinery has been mobilised to try to rescue those feared trapped, while about 30 ambulances rushed to the scene, local government official Saurav Rao told the Press Trust of India news agency.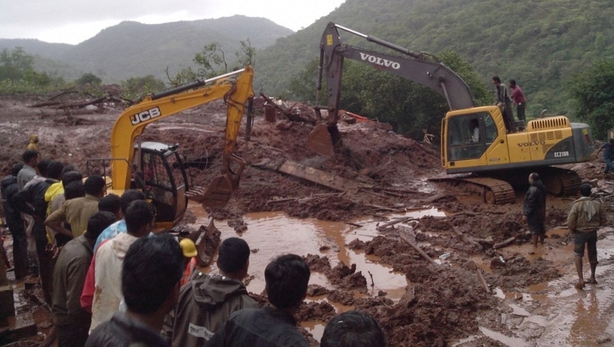 Divisional Commissioner Prabhakar Deshmukh said the rescue operation was a challenge with the area 15-20 kilometres from the nearest medical facility, but he said it should speed up once the NDRF teams arrive.
Heavy rains have been falling for days in Maharashtra as a result of the annual monsoon.
Nearly 6,000 pilgrims, tourists and others are believed to have died when flash floods and landslides struck northern India last June.
The victims were swept away when floods caused by torrential monsoon rains hit the Himalayan state of Uttarakhand, destroying entire villages and towns.
Raging rivers flattened houses and buildings in the state, which was packed with travellers in what was a peak tourist season.
Building collapses are a common occurrence in India, especially during the rainy season, with millions living in dilapidated old structures or newly built but illegal constructions made from substandard material.
An apartment tower under construction came crashing down in the southern city of Chennai late June following heavy rains, killing 61, mostly labourers.
A similar accident on the outskirts of Mumbai last year left 74 dead.
British daily The Guardian last year gathered statistics showing that 2,651 people were killed across India in 2012 from the collapse of 2,737 structures, including houses and bridges.