A two-mile exclusion zone has been declared around Skellig Michael off the Kerry coast during the filming of a new Star Wars film on the island.
The zone, which is being patrolled by a naval vessel, was declared by Minister for Transport, Tourism and Sport Paschal Donohoe under the Maritime Safety Act 2005.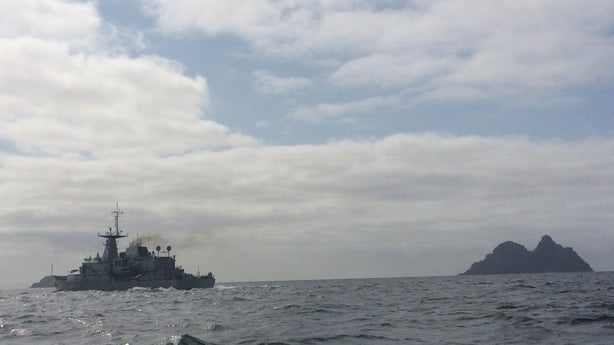 Only vessels and people authorised by the Irish Coast Guard are permitted to enter this area.
The minister made the direction, according to a public notice, "in the interest of providing for the protection of a natural heritage area during current operations facilitated by the Office of Public Works at Skellig Michael".
Around 30 crew members, and two terriers, were brought from the pier at Portmagee to Skellig Michael by local boatmen at dawn this morning.
A helicopter has been shuttling cast members to and from the island from nearby Valentia throughout the day. 
Weather conditions for filming have been good throughout the day. 
The production company has retained a security company at a number of locations in south Kerry but the atmosphere is relaxed and filming has been generally welcomed.
Gallery: Star Wars on Skellig Michael
Filming for the scenes began yesterday and is expected to last for three days.