US and European leaders have agreed to impose wider sanctions on Russia's financial, defence and energy sectors.
It comes as Ukraine said its forces advanced towards the crash site of Malaysian flight MH17.
The new sanctions were discussed in a conference call between US President Barack Obama and leaders of Germany, Britain, France and Italy.
They are aimed at increasing the pressure on Russian President Vladimir Putin, after the Malaysian airliner was shot down over territory held by pro-Moscow rebels in eastern Ukraine.
"It's precisely because we've not yet seen a strategic turn from Putin that we believe it's absolutely essential to take additional measures and that's what the Europeans and the United States intend to do this week," said Tony Blinken, a national security adviser to Obama.
The crash earlier this month has led to calls for much tougher action against Russia from Western countries who had previously imposed sanctions but only on small numbers of individuals and firms.
Meanwhile, black boxes recovered from the flight show shrapnel from a rocket explosion caused the passenger jet to crash.
A Ukrainian security official said international investigators "indicated that data from flight recorders show that the reason for the destruction and crash of the plane was massive explosive decompression arising from multiple shrapnel perforations from a rocket explosion".
Data from the airliner's black boxes was decrypted in the UK after being handed over to Malaysian officials by pro-Russian rebels controlling the crash site of MH17.
Investigators leading the inquiry in the Netherlands - which lost 193 citizens - refused to confirm the latest information from Kiev, saying that they were "waiting to get a more complete idea of what happened."
Meanwhile, the UN said the downing of MH17 "may amount to a war crime".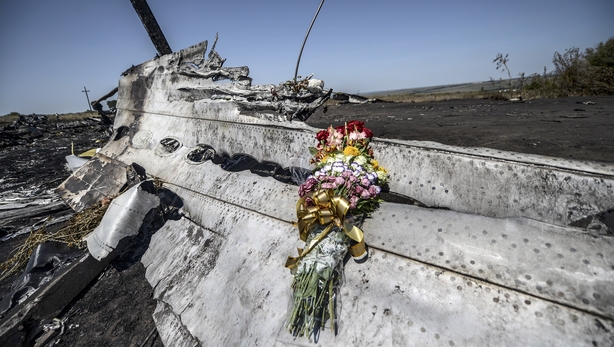 UN High Commissioner for Human Rights Navi Pillay condemned the "horrendous shooting down" of the Malaysian passenger jet in rebel-held territory that killed all 298 people on board.
She demanded a "thorough, effective, independent and impartial investigation".
"This violation of international law, given the prevailing circumstances, may amount to a war crime," she said in a statement.
"Every effort will be made to ensure that anyone committing serious violations of international law including war crimes will be brought to justice, no matter who they are," Ms Pillay said.
The Ukrainian government said today its troops had wrested more territory from the rebels and were moving towards the crash site which international investigators said they could not reach because of the fighting.
Troops recaptured two rebel-held towns near the site, and were trying to take the village of Snezhnoye, near where Kiev and Washington say rebels fired the surface-to-air missile that shot down the airliner, Ukrainian officials said.
One pro-government militia said 23 of its men had been killed in fighting in the past 24 hours, while a rebel commander said he had lost 30 soldiers.