Two Palestinian fighters were killed and another wounded by an Israeli drone strike in the Gaza Strip, emergency services said.
The victims were among a group of armed militants who were targeted by the Israeli drone east of Bureij refugee camp, near central Gaza's border with the Jewish state, witnesses said.
In a statement, Israel's army said it "has succeeded in stopping another attack against Israel by targeting terrorists who are implicated in launching rockets from central Gaza."
"The target was hit," said the statement.
Earlier, the Israeli army carried out a drone strike against a group of Gaza militants, but the targets managed to escape, witnesses said.
Elsewhere, Israeli media has reported Israel has arrested suspects in the death of a Palestinian teenager.
A security source indicated that Jewish assailants were responsible for the abduction and killing.
The reports said six suspects were in custody.
A security source said investigators believe Mohammed Abu Khudair, 16, was killed out of "nationalist motives", a term indicating they suspect that Jews were involved.
His burnt body was discovered in a Jerusalem forest on Wednesday.
Israeli police spokesman Micky Rosenfeld said a gag order had been imposed on most details of the case, commenting only that police had arrested a number of Jewish people suspected of carrying out the killing.

Israel's Shin Bet security agency said the suspects werebeing questioned at one of its installations.

Despite the gag order, Israeli media said a court had ordered the suspects remanded into custody for eight days. Police declined to comment. Israel's Channel 2 television said the suspects were far-right extremists, among them minors, from the Jerusalem area and a nearby Jewish settlement.
An autopsy attended by a Palestinian pathologist showed soot in the teenager's lungs, indicating he was still alive when he was set on fire, the Palestinian attorney general said.
It came a day after the burial of three Jewish teenagers whose abduction in the occupied West Bank on 12 June 12 deaths Israel blames on the Hamas Islamist group.
Meanwhile, the United States has called for speedy investigation of an incident in which it said a US citizen of Palestinian descent appeared to have been badly beaten by Israeli paramilitary police.
A video clip circulated on the internet yesterday showed two Israeli Border police holding down and repeatedly pummelling a masked youth before carrying him away.
The family of Tariq Khdeir, 15, from Tampa, Florida, who was visiting family in east Jerusalem, say he was the target of the punches.
The footage is blurred and the victim cannot be identified as he appears also to be wearing a head covering.
A later part of the video shows Khdeir's face with a heavy black eye and swollen lip.
He is the cousin of Mohammed Abu Khudair.
The Israeli Justice Ministry said in a statement that the police investigations department was looking into the incident.
US State Department spokeswoman Jen Psaki said the youth was visited by an official from the consulate in Jerusalem yesterday.
"We are profoundly troubled by reports that he was severely beaten while in police custody and strongly condemn any excessive use of force.
"We are calling for a speedy, transparent and credible investigation and full accountability for any excessive use of force," Ms Psaki said.
Mr Rosenfeld said the teenager was one of six rioters caught and detained in the incident, three of whom were found to be carrying knives.
He was released from custody this afternoon and placed under house arrest for nine days.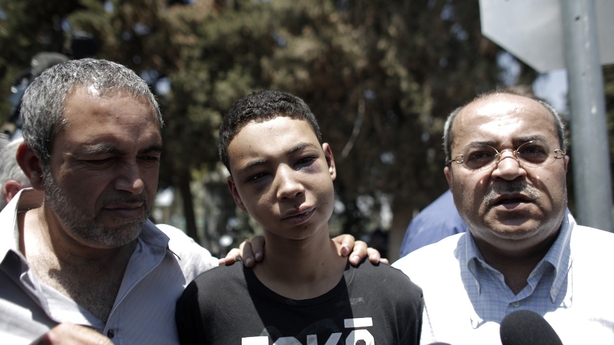 His mother said the family planned to return to the US on 16 July.
Palestinian President Mahmoud Abbas said he sent a message to UN Secretary-General Ban Ki-moon urging the formation of an international investigation committee into "terror crimes conducted against our people, including the burning alive of Mohammed Abu Khudair".
Separately, Israeli aircraft attacked ten sites used by Palestinian militants in Gaza this morning in response to persistent rocket strikes from the enclave, the Israeli military said.
Israeli Prime Minister Benjamin Netanyahu signalled that despite these attacks broader Israeli action is not imminent.
Rocket launchers and a weapons manufacturing facility were among the targets of the air strikes, which followed the firing of a rocket, intercepted by Israel's Iron Dome system late yesterday, at the major southern city of Beersheba.
There were no immediate reports of casualties from the airstrikes.
The current flare up began in mid-June after Israel began a crackdown in the occupied West Bank on Hamas, whose power base is in Gaza, after blaming the Islamist group for the abduction of the three Israeli teenagers.
Hamas has neither confirmed nor denied the Israeli allegations.
The Israeli youngsters' bodies were found in the West Bank last week.