Ruairi Quinn has confirmed he will step down as Minister for Education and Skills after the new Labour Party leader is elected.
He made the announcement outside Leinster House at midday.
Mr Quinn said it was a considered decision and he wanted to make the task of the new Labour team easier.
He will not seek re-election as a TD.
It is understood there was a series of meetings at Government Buildings this morning involving staff from Mr Quinn's office and current Labour Party leader Tánaiste Eamon Gilmore.
It comes ahead of an expected Cabinet re-shuffle next week.
His announcement is also just days ahead of the Labour Party choosing a new leader after Mr Gilmore's resignation following disastrous results in the Local and European Elections in May.
Mr Quinn said he has already voted in the leadership contest and although he would not indicate who he had voted for, he said the new leader had his full support.
Mr Quinn was first elected as a TD in 1977 to the Dublin South-East constituency, and bar one election in 1981 he retained his seat.
He was deputy leader of the Labour Party from 1990 to 1997, and succeeded Dick Spring as leader in 1997 but stood down after the 2002 general election.
He has held several ministerial positions and has been Minister for Education and Skills since 2011.
Before becoming a TD Mr Quinn was an architect and town planner.
On his decision to step down, Mr Quinn said he had made his own decision, but it had come sooner than he would have liked.
Quinn: this is a considered decision. I have decided to make the task of the new Labour team easier. pic.twitter.com/kI5mGDMFcs

— Paul Colgan (@paulcolgan) July 2, 2014
He said he had informed his family, the Taoiseach, Tánaiste and his party colleague Joan Burton of his intentions.
Ms Burton thanked Mr Quinn for his service to the party and to public life.
She said his commitment to making Ireland a better country for its citizens was unshakeable.
Party colleague and Minister of State Alex White said Mr Quinn had been a champion of reform.
Minister for Communications Pat Rabbitte said Mr Quinn has made an outstanding contribution to politics and he is sorry to see him "hang up his boots".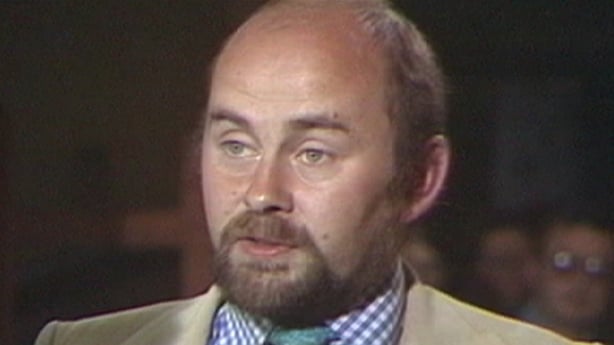 He said Mr Quinn is the longest serving TD after Taoiseach Enda Kenny. 
Former Taoiseach John Bruton said he believes Mr Quinn was one of the most successful finance ministers in Ireland's history.
Mr Bruton said the legislation to set up the Criminal Assets Bureau, which Mr Quinn created, was pioneering legislation for the whole of Europe.
Mr Bruton said he believed there was a future for the Labour Party in Ireland, and Mr Quinn was very conscious of the history of the party and its contribution to democracy.
Labour Party Chief Whip Emmet Stagg said Mr Quinn is leaving behind a lifetime of service.
Speaking on RTÉ's News at One, Mr Stagg said the outgoing-minister had been doing an excellent job in education.
Mr Stagg said Mr Quinn while Minister For Education had approved the building of 2,700 classrooms despite the recession.
Former Dublin lord mayor and constituency colleague of Mr Quinn, Councillor Dermot Lacey said Mr Quinn has been a good local constituency TD and a committed national politician.
Speaking on RTÉ's Today with Sean O'Rourke, Mr Lacey said one of Mr Quinn's proudest moments in politics was the implementation of the community employment programme.
Minister of State Kathleen Lynch said the attitude of Mr Quinn helped to ease the transition when the Democratic Left joined the Labour Party.
Speaking on the same programme, she said the minister was welcoming and always anxious to iron out any issues to the mutual benefit of both parties.
Association of Secondary Teachers, Ireland President Sally Maguire said Mr Quinn's tenure as Minister for Education came at a time of unprecedented crisis in Ireland that impacted on investment in education.
She said while the minister had a keen interest in education reform it is "regrettable that he failed to consult with the classroom practitioners on his proposals to replace" the Junior Cert exam.
The Union of Students in Ireland said Mr Quinn was one of the very few ministers to come to the USI congress to "defend his position", as well as regularly engaging with the union.
The Catholic Primary Schools Management Association paid tribute to Mr Quinn, saying: "The minister's availability, commitment and interest in primary education, and specifically in primary management, was evident from the outset."