Tracey Emin's 'My Bed' artwork, owned by Charles Saatchi, has been sold for a hammer price of £2.2m in an auction at Christie's in London.
The bed was sold to Mr Saatchi for around £150,000 and displayed as part of the first exhibition of the Saatchi Gallery.
'My Bed' comes complete with empty vodka bottles, cigarette butts and discarded condoms.
The controversial piece, which was shortlisted for the Turner Prize in 1999, was expected to fetch between £800,000 and £1.2m.
Ms Emin was in the packed auction room as the work was sold, to applause from the crowd.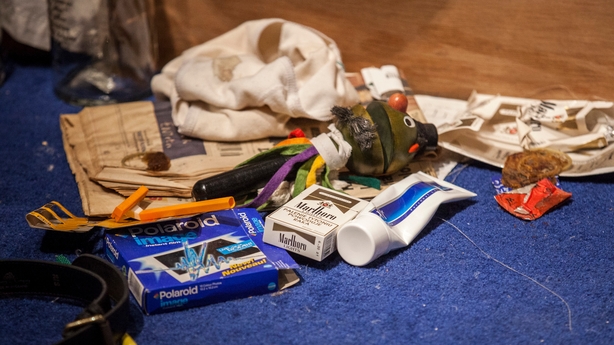 Christies said that with buyer's premium My Bed went for £2,546,500, which is a world record for the Margate artist at auction.
The auction house was unable to immediately reveal the buyer.
Speaking at Christie's in central London, where the bed went on display, Ms Emin said she still stands by her work which "changed people's perceptions of art".
She said: "This is a surreal experience. Every time I'm near the bed or install the bed I get flashbacks and recollections of when I first saw the bed, which was in my bedroom and that was 16 years ago.
"I can't really, still, come to the reality of the situation that it's moved and come so far.
"When I made the bed today, I actually had to get in it and pull the duvet over me and push it back to make it feel real and look real.
"Even the smell and everything, it's all still there for me. It's very, very evocative. Except it's like waking up, I wouldn't say a nightmare, but definitely ... it's really strange.
"It's now going on a different journey. I just hope it goes to a nice place. It's helped me a lot."
Ms Emin, 50, said reactions to the artwork, which she produced after a traumatic relationship breakdown, varied across the globe.
"In Japan they were shocked by my dirty slippers but they stole some bloody knickers and some condoms," she said.
"In America it was like, 'Yeah, we've seen feminist art before, we've done it already', no fuss, just treated it like a regular artwork.
"Of course in the UK, it just exploded with the Turner Prize. It just went crazy. I still think it's iconic.
"There was nothing in the world in art that has ever looked like this, that has ever been like this, it's seminal. It changed people's perceptions of what art is and what art can be. That's why it's still really special to me.
"If I could I would show this at my next exhibition. I still love it, I still stand by it and I made it 16 years ago."
Saatchi, who paid £150,000 for My Bed in 2000, is selling it to support the work of his public gallery in Chelsea.