Iraqi Prime Minister Nouri al-Maliki has ruled out forming a national emergency government to confront a Sunni militant offensive that has overrun large parts of the country.
In a televised address, he said: "The call to form a national emergency government is a coup against the constitution and the political process.
"The dangerous goals of forming a national emergency government are not hidden.
"It is an attempt by those who are against the constitution to eliminate the young democratic process and steal the votes of the voters," said the Iraqi leader.
Mr Maliki's electoral bloc won by far the most seats in parliamentary elections in April.
With 92 seats, it was nearly three times as many as the next biggest party, and the incumbent himself tallied 720,000 personal votes, also far and away the most.
But he fell short of a majority in Iraq's Council of Representatives, and has had to court the support of rivals in order to form a government.
A recent militant offensive led by the Islamic State of Iraq and Syria (ISIS), also known as ISIL, has put pressure on Mr Maliki from both domestic opponents and overseas, with critics alleging his policies are sectarian.
Meanwhile, an al-Qaeda's Syrian offshoot has reportedly made an oath of loyalty to ISIS, at a key town on the Iraqi border.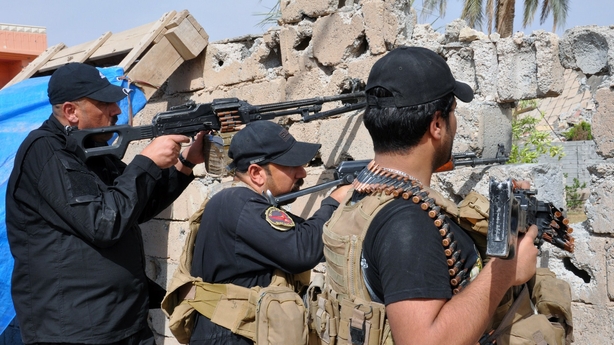 The Syrian Observatory for Human Rights said the merger is significant because it opens the way for ISIS to take control of both sides of the border at Albu Kamal in Syria and Al-Qaim in Iraq.
The aim of ISIS is to create an Islamic caliphate encompassing Iraq, Syria and Lebanon.
Elsewhere, the Syrian air force carried out air raids targeting ISIS in controlled Raqa in the north of the country and Muhassen in the east.
President Bashar al-Assad's regime has rarely targeted ISIS bastions, except in recent days.
Militants have, meanwhile, attacked one of Iraq's largest air bases.
The attack comes as the first US teams arrive to assess the Iraqi security forces and decide how to help counter a mounting Sunni insurgency.
Militants including ISIS and allied Sunni tribes battled Iraqi forces in the town of Yathrib, 90km north of Baghdad, into the early hours, witnesses and the deputy head of the municipality said. Four militants were killed, they added.
Insurgents have now attacked a massive air base nearby, which was known as "Camp Anaconda" under US occupation, and struck it with mortars.
More than 1,000 people, mainly civilians, have been killed in less than three weeks, the United Nations has said, calling the figure "very much a minimum".
US President Barack Obama has offered up to 300 American advisers to Iraq but held off granting a request by Mr Maliki's government for air strikes.
Rear Admiral John Kirby, the Pentagon press secretary, said late last night 130 of the advisers had now been deployed.
The initial group been sent to establish an operations centre included intelligence analysts, logistics experts and special operations forces.
He said about 40 special operations personnel already in the country and assigned to the US Embassy's Office of Security Cooperation had been deployed as part of the first two assessment teams.
About 90 additional troops arrived in Iraq to begin helping establish a Joint Operations Centre in Baghdad with Iraqi forces.
Another 50 US military personnel working in the region are expected to arrive within the next few days to create four additional assessment teams, Mr Kirby said.
US military personnel also are flying regular manned and unmanned reconnaissance flights over Iraq - about 30 to 35 a day - to give better insight about the situation on the ground and help the assessment teams, he said.