Britain's Queen Elizabeth has urged Northern Ireland's politicians to continue their search for reconciliation.
Speaking at Belfast City Hall on the second day of her visit to the North, she also spoke of the progress made in recent years.
She said she and the Duke of Edinburgh were seeing first-hand how people in Northern Ireland are working together for the common good.
"I know there are many challenges ahead and peacemaking is not always an easy task," she said.
"But you have come this far by turning the impossible into the possible.
"And, as you face the future and difficulties that may appear insurmountable, always remember that the thoughts and prayers of millions, including my own, are with you."
The queen added: "The world yearns for examples of positive transformation and of people overcoming differences.
"I hope and believe that Belfast will continue to be one such living example.
"And I want to thank you - all of you - from every part of this city for the hard work and dedication which you and your families have given to help reshape the city of Belfast and the lives of all the people who live here."
Queen Elizabeth and her husband, Prince Philip, this morning toured the former Crumlin Road Gaol in Belfast.
They were accompanied on the tour by Stormont's First and Deputy First Ministers, two former inmates.
Deputy First Minister Martin McGuinness spent a month in the gaol in 1976 charged with IRA membership, while First Minister Peter Robinson was detained there a number of times in the 1980s for his involvement in protests against the Anglo Irish Agreement.
Once a strong focus point of prison struggles during the Troubles, the gaol is now a visitor attraction and conference centre.
Mr McGuinness said after a private meeting with the queen at Hillsborough last night that the decision to tour the prison was a sign of her continuing support for the peace process.
In 1924, Eamon De Valera, later to become the third President of Ireland, was held in the prison for a month.
Other former inmates included Bobby Sands, Ian Paisley, and Tom Williams, a 19-year-old IRA member hanged there in 1942 for murdering an RUC officer.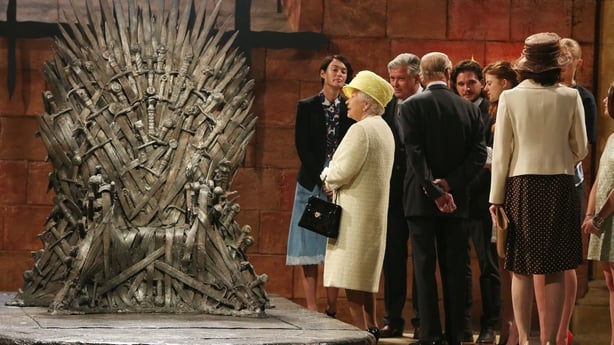 The queen's schedule today also included a visit to the Titanic Studios, where the Game of Thrones TV series is made.
She is also visiting St George's Market, close to the city's railway station, to meet traders and their customers.
Union flags are flying in many areas of Northern Ireland as the marching season builds but the Royal Standard flew over City Hall while the queen was there.