US President Barack Obama has said US troops will not be sent back into combat in Iraq but he said other options are being reviewed.
He that any US action would need to be accompanied by efforts from Iraqi leaders and other neighbouring countries.
Mr Obama said the threat by militants from the Islamic State in Iraq and the Levant (ISIL) in Iraq poses a danger to the people of Iraq and also, potentially Americans. 
He said he would take "several days" to make a decision on Iraq and he said he wants to make sure "we have good eyes on the situation" so any actions are targeted and precise. 
Earlier, it emerged that hundreds of people were killed, many of them summarily executed, after Sunni Islamist insurgents overran the Iraqi city of Mosul this week, according to a UN spokesman.
Iraqi government forces had stopped people at checkpoints and prevented them fleeing Mosul as the ISIS militants took it over, UN human rights spokesman Rupert Colville said.
ISIS is also known as the Islamic State in Iraq and the Levant (ISIL), and the group's aim is to create an Islamic caliphate encompassing Iraq, Syria and Lebanon.
ISIS is now using its own checkpoints to hunt down anyone associated with the Iraqi government.
"The full extent of civilian casualties is not yet known but reports received by UNAMI, the UN mission in Iraq, to this point suggest that the number of people killed in recent days may run into the hundreds and the number of wounded is said to be approaching 1,000," Mr Colville told a news briefing in Geneva.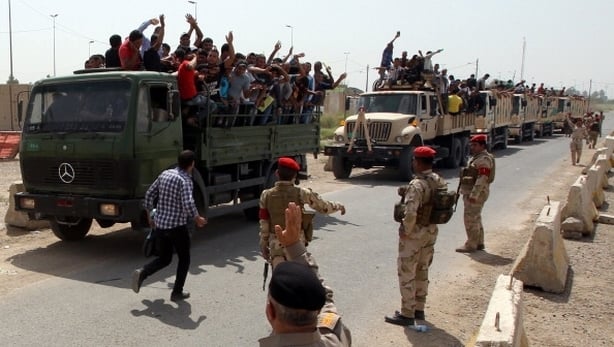 UNAMI has its own network of contacts and had interviewed some of the 500,000 who fled Mosul, he said.
It has been reported the group has now become the richest insurgent group ever after looting 500 billion Iraqi dinars ($429m) from Mosul's central bank.
Nineveh governor Atheel al-Nujaifi said that ISIS insurgents had stolen millions from numerous banks across Mosul.
A large quantity of gold bullion is also thought to have been stolen.
A further 40,000 people were estimated to have fled from Tikrit and Samara ,according to the International Organisation for Migration.
"We've received reports of the summary execution of Iraqi army soldiers during the capture of Mosul and of 17 civilians in one particular street in Mosul city on June 11," Mr Colville said.
"There was also the execution of a court employee in the Dawasa area in central Mosul and the execution of 12 people in Dawasa who were believed to have been serving with the Iraq security services or possibly with members of the police."
The "great majority" of the insurgents were Iraqis, Mr Colville said, citing UNAMI reports.
Prisoners released by the insurgents from Mosul prison had been looking to exact revenge on those responsible for their incarceration and some went to Tikrit and killed seven former prison officers there, Mr Colville said.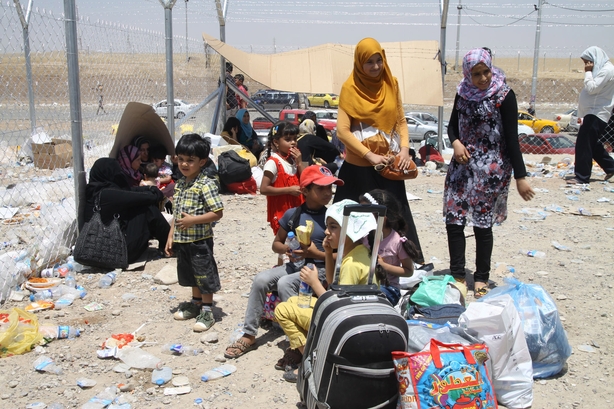 Meanwhile, the insurgents gained more ground in Iraq overnight, moving into two towns in the eastern province of Diyala after security forces abandoned their posts.
Security sources said the towns of Saadiyah and Jalawla had fallen, as well as several other villages around the Himreen mountains, which have long been a hideout for insurgents.
Iraq blocks social media
Iraq's communications ministry has ordered Internet and mobile companies to block social media websites and applications as insurgents drive towards Baghdad, technicians from two major service providers said.
The technicians said video-sharing site YouTube, social network site Facebook, micro-blogging site Twitter and communications applications WhatsApp and Viber were all affected.
The ministry was not immediately reachable for comment.