The Taliban has released dramatic footage of their handover of army sergeant Bowe Bergdahl to US forces after five years in captivity.
"Don't come to Afghanistan again. Next time, nobody will release you," one of the militants is heard telling Sgt Bergdahl in the 17-minute video.
It shows a US military helicopter landing in a valley, kicking up small clouds of dust as a jittery-looking Sgt Bergdahl waits just a few feet away flanked by militants clutching a white flag.
After a brief exchange of handshakes between insurgents and US soldiers, Sgt Bergdahl moves unsteadily towards the helicopter.
Sgt Bergdahl was the only US soldier held by the Taliban after being captured in Afghanistan.
He was freed on Saturday in exchange for five senior Taliban militants detained at Guantanamo Bay in a deal brokered by Qatar.
His release has evoked sharp criticism from some US politicians, who fear they could return to the battlefield and pose a threat to Americans abroad.
The Taliban video, titled "Ceremony of the American soldier exchange", at one point also displays the words "Don' come back to afghanistan (sic)" superimposed over footage of Sgt Bergdahl.
The video is laced with religious music and chants of "Allahu Akbar" (God is greatest).
A male voiceover said the exchange occurred in the eastern Afghan province of Khost.
"The Americans contacted us and asked us where was a good place to meet. We contacted tribal elders to come and join us, because we do not trust them (Americans)," the voiceover said.
"I congratulate all the Mujahideen for this victory."
The authenticity of the video has not been independently verified.
US defence officials have said dozens of US special forces troops backed up by helicopters were sent for the handover.
Sgt Bergdahl is now being treated at a US military facility in Germany.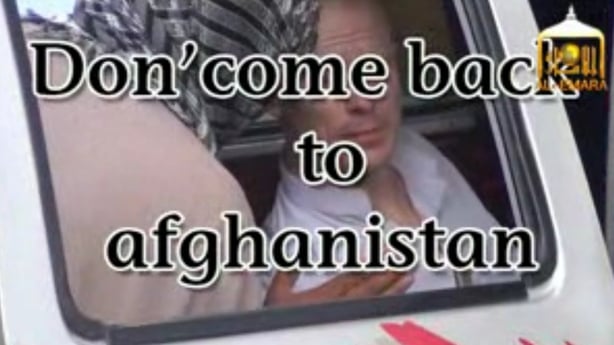 Bergdahl may face disciplinary action
Sergeant Bergdahl may still be disciplined if the army finds evidence of misconduct, the US military's top officer has said.
General Martin Dempsey, the chairman of the Joint Chiefs of Staff, was speaking after claims from members of Sgt Bergdahl's unit that he had been captured after abandoning his post.
The New York Times cited a former military official as saying Sgt Bergdahl slipped away from his base near the Afghan border with Pakistan, leaving a note saying he had become disillusioned with the army and the war and was going to start a new life.
"Our army's leaders will not look away from misconduct if it occurred," Mr Dempsey said.
The general stressed that Sgt Bergdahl, who was taken as a private and promoted while in captivity, was innocent until proven guilty, and that the military would continue to care for him and his family.
"The questions about this particular soldier's conduct are separate from our effort to recover ANY US service member in enemy captivity," Gen Dempsey wrote in his statement.
"This was likely the last, best opportunity to free him. As for the circumstances of his capture, when he is able to provide them, we'll learn the facts."
Elsewhere, US Defence Secretary Chuck Hagel has said he had no information about US soldiers being killed in efforts to find Sgt Bergdahl.
"I do not know of a specific circumstance or details of US soldiers dying as a result of efforts to find and rescue Bergdahl," Mr Hagel said after a NATO defence ministers meeting in Brussels.
Pressed for comment amid growing controversy over the exchange and circumstances of Sgt Bergdahl's capture five years ago, Mr Hagel said the army had already promised a comprehensive review.
Meanwhile, CNN reported yesterday that a US Army fact-finding investigation conducted in the months after Sgt Bergdahl's 2009 disappearance concluded that he left his post deliberately, according to an official familiar with the probe who spoke with the network on condition of anonymity.
The official said there was no definitive finding Sgt Bergdahl had deserted because that would have required knowing his intent.
The probe also interviewed members of Sgt Bergdahl's unit, none of whom reported seeing him go, according to the official.
US President Barack Obama has come under fire from Republicans and other critics who say the swap will encourage others to try to take US soldiers or diplomats hostage.
Mr Obama's aides have defended the deal as an appropriate attempt to save the life of a captured soldier's whose health was believed to be deteriorating.