Turkish Prime Minister, Recep Tayyip Erdogan, has urged young Turks to ignore a call to mark the anniversary of last-year's Taksim Square protests that mushroomed into a revolt against his rule.
Turkish police were already mobilising to face down marches announced for today.
It comes as opposition sympathisers mourn the death of a 64-year-old Turkish woman, who had fallen into a coma, during a crackdown on protesters in December.
"One year later, people, including so-called artists, are calling for demonstrations, but you, Turkey's youth, you will not respond to the call," Mr Erdogan told a crowd of a thousand young people in Istanbul.
Mr Erdogan again bitterly criticised a movement that began as a neighbourhood mobilisation to save a much-loved park from real estate developers and swelled into an outpouring of anger against the perceived authoritarian tendencies of the Islamic-rooted government.
"These terrorist organisations manipulated our morally and financially weak youth to attack our unity and put our economy under threat," Mr Erdogan said.
Despite a government ban on gatherings at Taksim Square, a symbolic rallying point, activists have called for a demonstration there to mark the one-year anniversary of the unrest.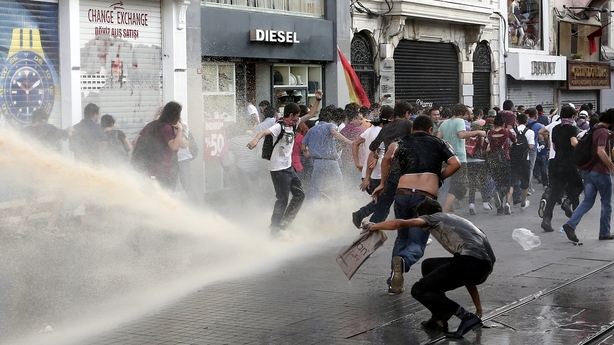 Eight people died and thousands were wounded when police cracked down on peaceful protesters.
Turkish media reported that around 25,000 police officers, as well as dozens of water cannon trucks and armoured vehicles would be deployed to Istanbul today, to prevent demonstrators from reaching the square.
Kemal Kilicdaroglu, leader of the main opposition Republican People's Party (CHP), has urged the authorities to let people peacefully protest.
"Let the young people protest as they want. They are peaceful, they can't harm anyone. What will you achieve with all these bans?" he said.
The rising tensions were made worse with the death by heart attack of Elif Cermik, who inhaled tear gas fired by police at a December protest in Istanbul.
"Elif Cermik died this morning (Friday). She had been in a coma for 159 days," Halkevci Kadinlar, a leftist women's rights group, told AFP.
The Human Rights Association of Turkey denounced the death of the mother-of-two in a statement.
"Enough is enough!" it said.
"Those who caused the death of Elif Cermik should be tried!"