Aer Lingus cabin crew members have begun a 24-hour strike in a dispute over rosters, with pickets placed at Dublin, Cork, and Shannon airports.
Several hundred cabin crew have marched through Dublin Airport as part of their protest.
The airline has been forced to reschedule thousands of passengers who were due to travel today.
The strike is estimated to be costing the airline up to €10m.
Aer Lingus normally carries 40,000 passengers on a bank holiday Friday, but almost all its planes are grounded today.
More than 200 flights have been cancelled, but Aer Lingus hired in planes and crews to operate extra services yesterday and tomorrow.
Ryanair Chief Executive Michael O'Leary has urged Aer Lingus to withdraw cheap travel concessions from cabin crew who staged the strike.
Mr. O'Leary told RTÉ News that, as the largest shareholder in the Aer Lingus, Ryanair is furious at the way management had "mismanaged" industrial relations at the airline.
He queried what sanction would be imposed on cabin crew and urged the airline to eliminate lower cost flight privileges for the next 12 months.
Mr.O'Leary also confirmed that he has written to Aer Lingus Chairman Colm Barrington seeking the resignation of ICTU General Secretary David Begg, who he described as a "trade union baron".
He also noted that a further dispute involving pensions had not yet been resolved, and questioned where things would stand in this regard on the next bank holiday weekend in August.
He rejected suggestions that Aer Lingus cabin crew were overworked, saying that legally they could not work more than an average of 18 flying hours per week, or 40 hour in total duties.
He said the dispute had had little effect on Ryanair as they were already pretty full for the bank holiday weekend.
Cabin crew are marching through Dublin Airport to Aer Lingus headquarters this morning to hand in a letter to management.
The Irish Airline Pilots' Association earlier urged members to attend that march where possible.
Fifty cabin crew belonging to SIPTU will report for work, but will not take on duties normally done by IMPACT members.
Cabin crew describe their roster as "erratic", saying it results in undue fatigue and stress.
However, Aer Lingus insists that extending the pilots' roster to cabin crew would be costly and inefficient.
It said it could mean moving 300 cabin crew posts to North America.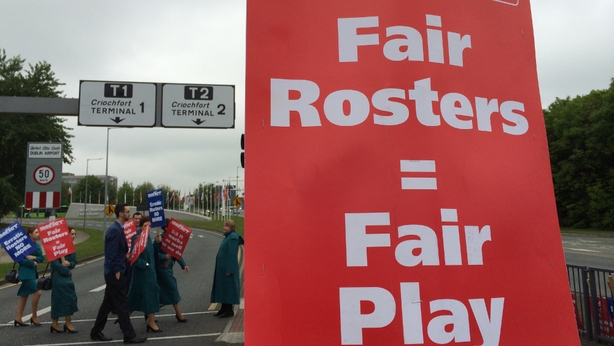 Aer Lingus management and the union are due to meet next week, but further industrial action by cabin crew has not been ruled out.
In a statement this morning, Aer Lingus said the "unwarranted and unnecessary" strike has caused huge disruption.
Director of Communications Declan Kearney said the strike should never have happened and "Aer Lingus cabin crew enjoy some of the most favourable working conditions in Ireland".
He said changes to working conditions, such as rosters, should be agreed in an "orderly and responsible manner" and customers should not be used as "leverage" by IMPACT in its negotiations.
The airline said all Aer Lingus flights to and from Belfast City Airport, as well as all its regional flights, are operating as normal.
Some Aer Lingus pilots are refusing to pass the cabin crew picket, according to reliable sources.
It is understood that IALPA has agreed to fly empty planes to destinations where they need to be for the resumption of the normal schedule tomorrow, but will not carry planes carrying fare-paying passengers.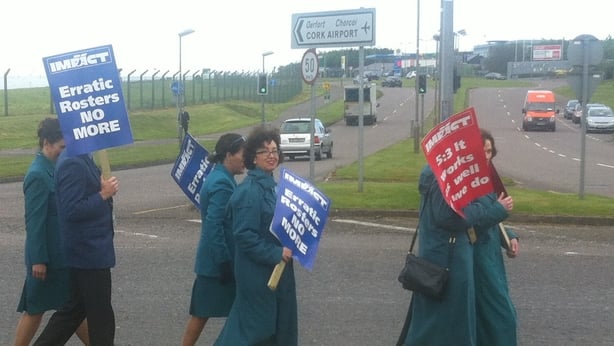 Twenty-six Aer Lingus flights to and from Cork Airport have been affected by today's industrial action.
The 6am flight to Amsterdam was the first to be cancelled. Scheduled flights on a total of seven routes are affected.
These include Heathrow, Brussels, Paris, Barcelona, Faro and Malaga.
Aer Lingus flights to regional airports in Britain, including Glasgow, Edinburgh, Birmingham, Bristol and Manchester are operating as normal.