Sinn Féin's Liadh Ní Riada has been elected an MEP in the Ireland South constituency.
Ms Ní Riada described her election as "a victory for ordinary people".
Fianna Fáil's Brian Crowley was elected on the first count in the constituency.
Counting was suspended after the seventh count shortly after 2am and was scheduled to start again at 9am on Tuesday.
No candidate has reached the quota on the third count at the Midlands North West count in Castlebar.
Senator Rónán Mullen has now been excluded from the count.
The Returning Officer said there were several hours counting left to do, so he suspended the count for tonight.
It will resume at 9am.
Earlier, Luke 'Ming' Flanagan was elected on the second count in the constituency.
In Dublin, Independent MEP Nessa Childers, Fine Gael's Brian Hayes and Sinn Féin's Lynn Boylan have been elected to the European Parliament.
Earlier, a recount was requested for the Dublin European Parliament constituency following the seventh count.
It had appeared Ms Childers and Mr Hayes had taken the two remaining seats following the earlier election of Ms Boylan.
However, Eamon Ryan of the Green Party requested a recount. 
Ms Childers and Mr Hayes claimed the final two seats when they were elected. 
Ms Boylan was the runaway leader, securing 83,264 first preference votes, sufficient to secure election after the third count.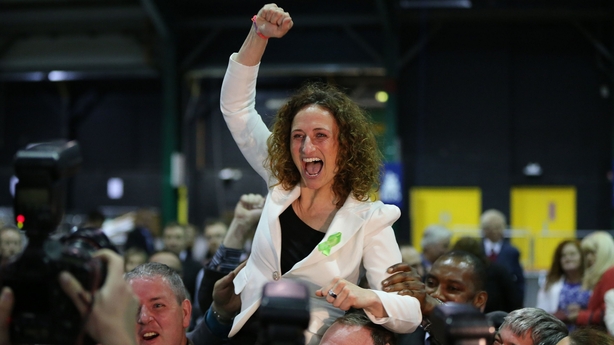 Ms Boylan secured 23.6% of total first preference votes, ahead of Mr Hayes on 15.5% and Ms Fitzpatrick on 12.6%.