A Labour TD has called on his party's entire front bench to go after accusing them of being out of touch with voters.
Michael McNamara said Eamon Gilmore should be replaced and a new party leader will have to come from a different generation to the current leadership.
The Clare TD wants almost everything to change in Labour.
However, he said there may be a case for retaining Brendan Howlin as a Minister.
Mr McNamara also wants the party to look again at its priorities and to ask if they can be achieved in Government.
The comments were prompted by the slump in Labour's support.
It now stands at just 7%.
Labour junior minister Joe Costello has described Mr McNamara's statement as ridiculous.
The Minister of State at the Department of Foreign Affairs told RTÉ News that there has been no public criticism of the capability of the Labour ministers.
He added that the party needed a full analysis of the election results.
Labour TD Arthur Spring has said "no positions, ideas or strategies in the party are beyond scrutiny at the moment".
Meanwhile, Fianna Fáil leader Micheál Martin has insisted that the issue of his leadership will not arise in light of his party's performance in the Local and European Elections and in the two by-elections.
He was speaking after Fianna Fáil TD and Public Accounts Committee Chairman John McGuinness said he would challenge for the leadership if the party did not change.
Mr McGuinness also expressed surprise that the party failed to secure a more substantial increase in support.
Speaking in Cork, Mr Martin said the party and the membership was "overwhelmingly" very pleased with the results returned across the country.
He said no issue would arise in relation to his leadership.
Mr Martin rejected criticism of Fianna Fáil's performance in Dublin, where Sinn Féin will be the biggest party on the city council.
He said that by any yardstick, Fianna Fáil's gains in Dublin were significant.
Taoiseach says Sinn Féin now a significant entity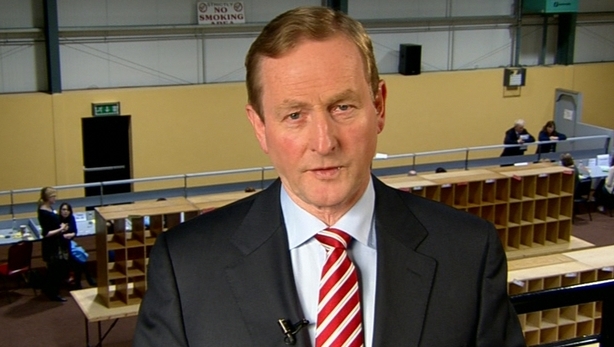 Earlier today, Taoiseach Enda Kenny said that Sinn Féin is now a significant political entity in the country and that success for the party brings responsibilities.
Speaking at the Midlands North West Count centre in Castlebar this afternoon, Mr Kenny said people had clearly made their views felt when they cast their ballots on Friday.
He described the outcomes in local elections as a good day for Independents and Sinn Féin.
Mr Kenny said he recognised that concerns from older people and vulnerable groups had been clearly expressed at the ballot box.
He said the Government would reflect on that.
He said the next General Election would be a "humdinger".
Mr Kenny said he felt people would approach a General Election differently to how they would approach Local Elections.